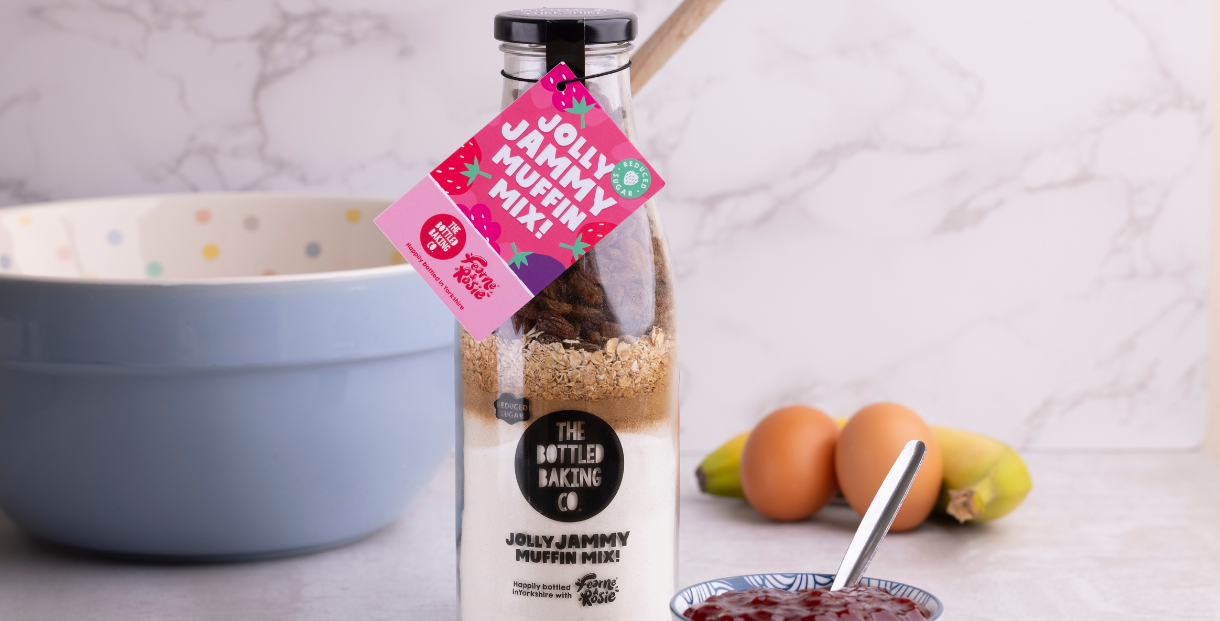 Fearne & Rosie x Bottled Baking Co.
If you've not come across the wonderful Fearne & Rosie before, they make a whole host of delicious jams made from all natural ingredients.
Their range of jams are aimed at children and with that in mind, they've created each recipe with as little sugar as possible.
Their goal is to cut 61 million sugar cubes out of family households by 2025, whilst educating on wider health along the way!
About the Founder
Rachel Kettlewell launched Fearne & Rosie back in November 2019 in the rolling hills of Yorkshire (yes, we're neighbours!).
Rachel named the business after her two daughters, Fearne & Rosie, as they played a very important role in why she launched this business. 
As a mother and ex-teacher, Rachel was (and still is!) very passionate about finding the berry best foods for her whole family. She found that a lot of jams had an eye-watering amount of sugar and decided to create her very own range! 
Fast forward a few years. Rachel is now squishing together natural fruits to make tasty, fruity jams with more fruit and less sugar for Fearne & Rosie and now George, her son, and most importantly, for you and your family!
How we came to collaborate with Fearne & Rosie
Our founder Greg contacted Rachel a few years ago now, after coming across the brand on Instagram. Not only did Greg love the Fearne & Rosie branding, but he quickly noticed that Rachel was also from Yorkshire so he just had to get in touch. 
Greg and Rachel swapped many ideas and tips over the years before deciding to join forces for a brand collaboration. 
They decided to create a limited edition mix called the 'Jolly Jammy Muffin Mix'. Bakers simply dollop a spoonful of jam into the middle of each muffin before popping them in to bake, making a scrumptious soft muffin that oozes with fruity jam!
How to bake our Jolly Jammy Muffin Mix
You'll need: 
1x Jar of Fearne & Rosie Jam

1 ripe banana

100ml vegetable oil

100ml milk

2 eggs

1x bottle of the Jolly Jammy Muffin Mix
How to bake the muffins
Preheat the oven to 190 degrees (conventional oven), 180 degrees (for fan oven) or gas mark 5

Mix all of the ingredients together in a mixing bowl until a smooth batter is formed

Spoon the mixture into your muffin cases, popping a teaspoon of jam in the middle of each case, before topping up with the mixture until each muffin case is ¾ full.

Bake for 16-18 minutes until golden brown. 

Cool, decorate and eat.
Our in-house Bottled Baker Cristy baked up these muffins not long ago, check 'em out 👇  
Interested in collaborating?
Are you interested in a collaboration? Whether it be a giveaway on our socials or perhaps you've got something BIGGER in mind, we'd love to hear from you.
Slide into our DMs on Instagram (@thebottledbakingco) or get in touch through the form below 👇