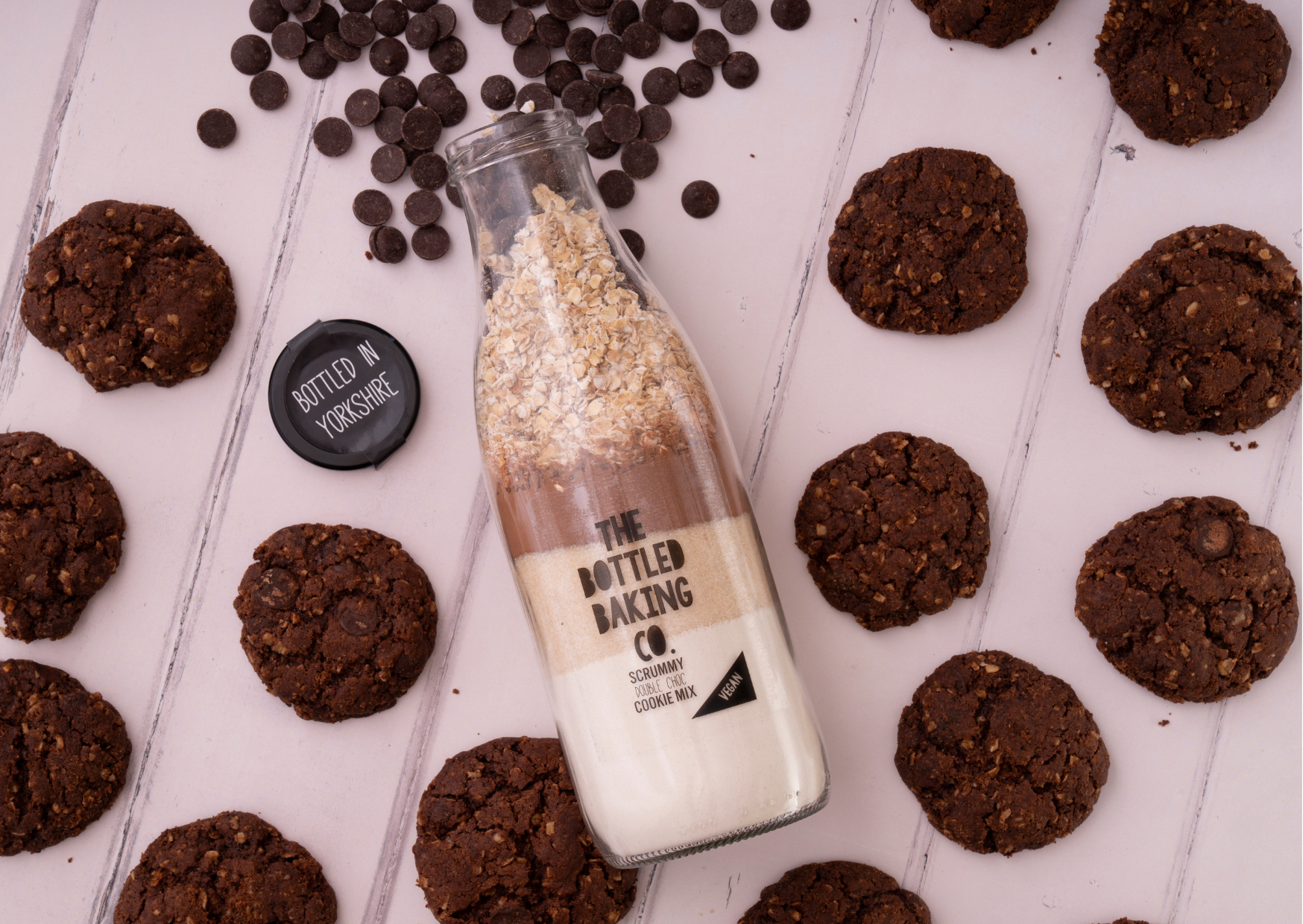 Our favourite vegan baking recipes for Veganuary
According to the official Veganuary site, more than 629.000 people across 228 countries took part in Veganuary last year, which broke all previously held records.
Whether you're already vegan or perhaps thinking about getting involved in Veganuary this year, we've rounded up some of our favourite vegan-friendly bakes you can make at home - hopefully making January that little bit sweeter! 
First up, it's our Vegan Biscoff Chocolate & Walnut Brownies👇
Yes! Can you believe it? Biscoff IS in fact vegan 🤤If you're anything like us, it's hard to not eat their spread by the spoonful. We decided to use it in our vegan chocolate and walnut brownie 👇
For the vegan brownies you'll need…
Baking the vegan brownies
Preheat the oven to 180 degrees (conventional oven), 170 degrees (for fan oven) or gas mark 4

Line your tin with baking parchment

Mix all of the ingredients together in a mixing bowl until a smooth batter is formed

Pour the mix into your lined tin and to make the swirls, drizzle a tablespoon of Biscoff spread diagonally across the vegan brownie. 

You can then use a knife or a cocktail stick to make the swirl pattern.

Pop the vegan brownie in the oven to bake for 18 minutes (gooey) or 25 minutes (cake like)

Pop the brownie in the fridge to cool for 30 minutes before cutting your slices

Drizzle a teaspoon of biscoff spread over the top and enjoy! 
Watch our resident Bottled Baker, Cristy, make them here👇 She's even topped them off with some vegan whipped cream 🤩
Try these Vegan S'mores…
Why not liven up those cold, dark January evenings by lighting a fire pit outside and baking up some delicious s'mores for the occasion 🤩
For the s'mores you'll need…
1x bottle of our Vegan Double Choc Chip Cookie Mix

250g melted vegan butter (all the major supermarkets now do plant-based butter)

1x bag of vegan marshmallows (we recommend Dandies Vegan Marshmallows which can be picked up at Asda or Holland & Barrett)

1 tbsp vegan chocolate spread (can also be picked up in most major supermarkets)

2x baking trays
Baking the vegan cookies
Preheat the oven to 180 degrees (conventional oven), 160 degrees (for fan oven) or gas mark 4

Line your tin with baking parchment

Mix all of the ingredients together in a mixing bowl until a dough is formed

Chill the mix in the fridge for 20 minutes

Divide the dough into 20-25, 3cm balls and place them evenly spaced on your baking trays

Bake the vegan cookies for 14-16 minutes 

Remove from the oven and allow them to cool for 15 minutes

Once cool, pop a marshmallow on one of the vegan cookies and pop it in the microwave for around 10 seconds, or until the marshmallow is nice and squidgy

Pop another vegan cookie on top and drizzle a tsp of vegan chocolate spread on the top
We had a go at making some s'mores in the summer, check 'em out here 👇
How CUTE are these Vegan Penguin Cupcakes!
We absolutely LOVE @thelittleblogofvegan and her vegan bakes are just so pretty! Her penguin cupcakes are super easy to make and we've put our own little twist on them too!
For the cupcakes, you'll need…
1x bottle of our Vegan Chocolate & Walnut Brownie Baking Mix (yes, you can in fact use our vegan brownie mix to make cupcakes, you'll just need to bake them for a little longer)

100ml vegetable oil

200ml water

16 cupcake cases

2 baking trays
To make the buttercream, you'll need…
180g vegan butter

260g icing sugar

40 ml of chickpea brine aka 'aquafaba' (this is the water from a can/tin of chickpeas which according to Holly, acts as an amazing egg substitute for cakes, meringue, buttercream etc.)

1 teaspoon of vanilla extract
To make the penguins, you'll need…
1x pack of Oreo cookies

150g vegan white chocolate 

Orange gel (vegan-friendly product is linked) 

Black gel (vegan-friendly product is linked) 

Pink gel (vegan-friendly product is linked)

Desiccated coconut (optional)
Baking the cupcakes
Follow the above vegan brownie recipe, except pop the mixture into cupcake cases and leave them to cook for 20-25 minutes.
Making vegan buttercream
Whisk the vegan butter until creamy, adding in the icing sugar and vanilla extract after.

Whisk the above ingredients until fluffy

Pour in the aquafaba, whipping for 5 minutes until the mixture is light and creamy. Make sure to not over whip as it can become too soft (just add a little more icing sugar if this occurs) 

Separate a small amount of the buttercream into 3 separate bowls for the scarf, eyes and nose.

Add one of each food gel into each bowl to create a mix for the eyes (black),) for the scarf (pink) and for the nose & feet (orange). 

Pop each colour into a small piping bag with the tip snipped off

Do the same with the main white buttercream but instead in a large piping bag (use a round tip nozzle for this if you have it)
Making the penguins
Pipe a swirl of buttercream on top of each cupcake, then set the cakes aside.

Optional– Roll the buttercream in desiccated coconut. 

Melt some dairy-free white chocolate over a bain-marie and pour into a shallow bowl.

Dunk 2 sides of the oreo in the melted white chocolate (as seen in her reel above)

Pipe on two small dots of black buttercream (for the eyes), and a small triangular orange nose.

Place the penguin faces on top of the cupcake, and pipe a scarf around the head with the pink buttercream.

Break some Oreos in half and add them on the sides of the cupcakes to make the penguins 'wings'!
Tag us in your vegan bakes!

Every month over on our Instagram, we choose a Bottled Baker of the month! Use the #BottledBakeOff and if you're the chosen one, we'll share your bake on our feed! You'll also receive one of our coveted Bottled Bake Off wooden spoons 🤩
HAPPY VEGANUARY ALL 🌱