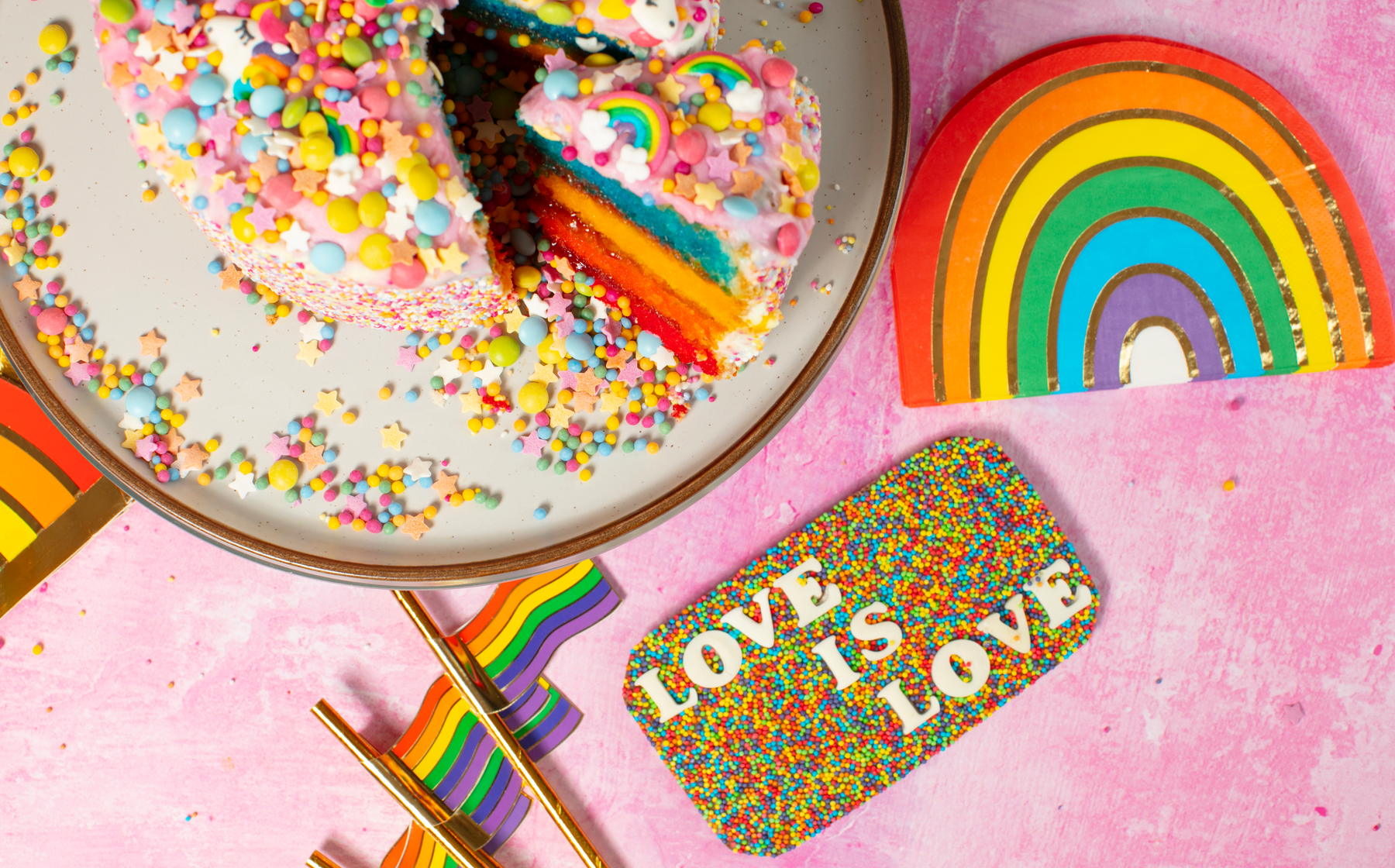 Bake with Pride for June
June is Pride Month. Meaning rainbows galore and lots of fabulous celebrations across the globe!
But Pride month is about so much more than that. Something particularly close to our hearts at BB HQ, with a few members within the team being part of the LGBT+ community, we provide a safe space for all within our team and for our customers.
Last year, we created a baking mix dedicated to the delicious rainbow cake, which was available for the month of June only and allowed us to raise a whopping £677.67 for LGBT+ charities.
For #PrideMonth2022, we're sharing some quick and easy baking hacks to allow you to create your own Pride themed baked delights using our mixes.


1. The iconic rainbow cake

Using as plain a sponge base as possible allows you to make sure your colours are VIBRANT - very important for those rainbow layers.
Start by taking a traybake mix such as our raspberry and white chocolate, or our unicorn (pretty perfect, right!), adding the extras in a bowl with the contents of the bottle and mixing it up. Then, divide the mix into shallow cake pans (7 if we're being exact!) and add a splash of one colour to each of the bowls.

Bake until a skewer comes out clean then allow to cool.

Layer with appropriately coloured buttercream, and cover in the jazziest of sweet treats and sprinkles and voila!

2. Rainbow cookies

You can put pretty much anything in a cookie. Chocolate chips, chocolate chunks, peanut butter, jam… and of course smarties!
If you fancy simplifying your life though... 👇

3. Flag traybakes

If you've been to a Pride event before, the beautiful flags in all their majestic colours, blowing in the breeze, is always a beautiful sight to behold. Tray bakes act as a great rectangular base to turn into your chosen flag. Whizz up some buttercream to decorate and show your pride or grab some multicoloured icing and keep it simple.

4. Lurve muffins

An affectionate name for your beau, and of course, love is love, we've created some yummy lurrrrve muffins to celebrate this month. The oreo chocolate is just delicious and, if eaten a day later, popped in the microwave for 10 seconds and adding some raspberry ice cream makes for a marvellous dessert!
Here's a recipe for some scrummy love muffins:
Ingredients
2 cups self raising flour 
1 tbsp baking powder
100g sugar (granulated
2 eggs (beaten)
225ml milk
100g butter (melted)
1/2 tsp Salt


Instructions
In a large bowl, mix together the flour, baking powder, salt and sugar.

In a separate bowl, combine the eggs, milk and butter.

Pour the wet mixture into the large bowl. Stir just until ingredients all combined.

Spoon the mixture evenly into paper lined muffin tins. Bake at 200 degrees celsius for 20-25 minutes or until golden brown.

Take out of the oven and leave to cool.

 Dust with icing sugar and sprinkle some hearts on top of the muffins.

Give to your loved one.

5. Brownieblondie

Diversity and inclusion underpins everything that Pride month represents. Love who you want to love and be who you want to be.
Did you know though, that the classic rainbow flag from 1978 has changed over the years to be more inclusive. Originally the flag had six stripes; red, orange, yellow, green, blue, and violet.

In 2017, a revised version of the flag was created, adding black and brown stripes to the top of the standard six-colour flag, to draw attention to issues of people of colour within the LGBT community.
Later, the trans community was also acknowledged with the inclusion of the baby blue, pink and white colours in a triangle format from the right hand sight.
So, in acknowledgment of this, we've created our brownie blondie; a brownie and blondie swirled together to represent all shades within the LGBT+ community.
We hope you love these ideas! If you try one, be sure to let us know by using #BakeWithPride and @ ing us on TikTok, Instagram, Facebook or Twitter!