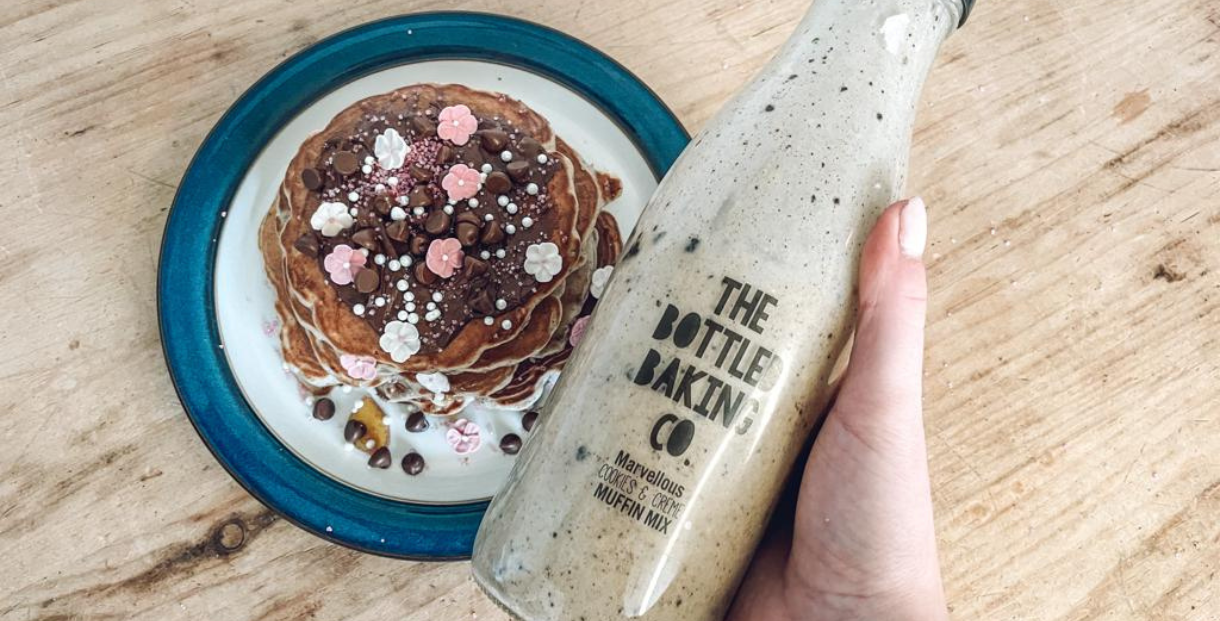 Use our Marvellous Cookies & Creme Muffin Mix for pancakes this Pancake Day
Tired of the plain ol' crepe this Pancake Day? Looking to liven up your stack? Our Bottled Baking Co. mixes are pretty versatile, so much so that you can actually use them as a pancake mix!
Pancake Day is on the horizon, so we'll be showing you how to turn one of our mixes into a pancake mix ready for the big day. 
But first…
What is Pancake Day and why do we have it?
Pancake Day, also referred to as Shrove Tuesday, is the day of feasting before the start of Lent on Ash Wednesday. 
But where do pancakes come into this I hear you ask? Well, where everyone was fasting for Lent, it meant that a lot of the 'cupboard staples' had to be cleared out. Eggs, milk and butter were all thrown together to make THE pancake, and so they were born. 
How to turn our Cookies & Creme Muffin Mix into a pancake mix 
Makes 12 pancakes
These pancakes will resemble a typical 'American pancake', thick and fluffy 🥞
Equipment you'll need:
Mixing Bowl

Wooden Spoon

Whisk

Jug

Frying pan
Ingredients you'll need:
You can actually use any of our

cake mixes

as a base for your pancakes!

3 large eggs

200ml milk

Any toppings you might like
Step 1 - Pour all of the dry ingredients from the mix into a bowl 
Grab our muffin mix and pour all of the ingredients into your mixing bowl (yes all of those goodies will be going into your pancakes 😋)
Step 2 - Crack your eggs into the jug with your milk 
Once you've measured out your milk into a jug, crack all three of your eggs into the jug too. 
Step 3 - Pour the contents of your jug into your mixing bowl
Whisk all of the ingredients together and make sure there are no lumps. At the same time, try not to over-whisk as the gluten can develop from the flour in the batter, making your pancakes a little chewy instead of fluffy. 
Step 4 - Pour your mix back into your Bottled Baking Co. bottle
If you're pre-preparing your pancake mix ahead of Pancake Day, you can pour your mix back into your Bottled Baking Co. bottle and pop it back in the fridge! 
If you're making these pancakes right here, right now… here's how you bake 'em 🧑‍🍳
Step 5 - Baking your pancakes
Put your frying pan on a medium heat and pop a knob of butter into the pan - this will stop your pancakes from sticking to the bottom! 
Pour a bit of your mix into the pan and after a one minute cooking on one side, flip the pancake over. 
Cook until the pancakes are golden brown and looking light and fluffy! 
Step 6 - Add your toppings of choice
We decided to decorate our pancakes with anything and everything we had in the cupboard - chocolate chips and flower sprinkles 🌸 
For the finishing touches, dust a little icing sugar over your stack of pancakes and serve! 
There you have it! Such a simple, easy way to liven up the base of your pancakes for Pancake Day! Our in-house Bottled Baker Cristy gave these a go too! See how she got on in our latest reel 👇
Tag us in your Bottled Bakes to win one of our coveted wooden spoons!  
If you've had a go at following our pancake recipe or baking up any of our Bottled bakes for that matter, tag us on Instagram using the #BottledBakeOff. 
Wilfred did just that with our M&S Percy Pig Blondies, winning one of our Bottled Bake Off wooden spoons as well as being reposted on our feed!
We choose a winner every month, so keep an eye on our feed to see if you're a winner!