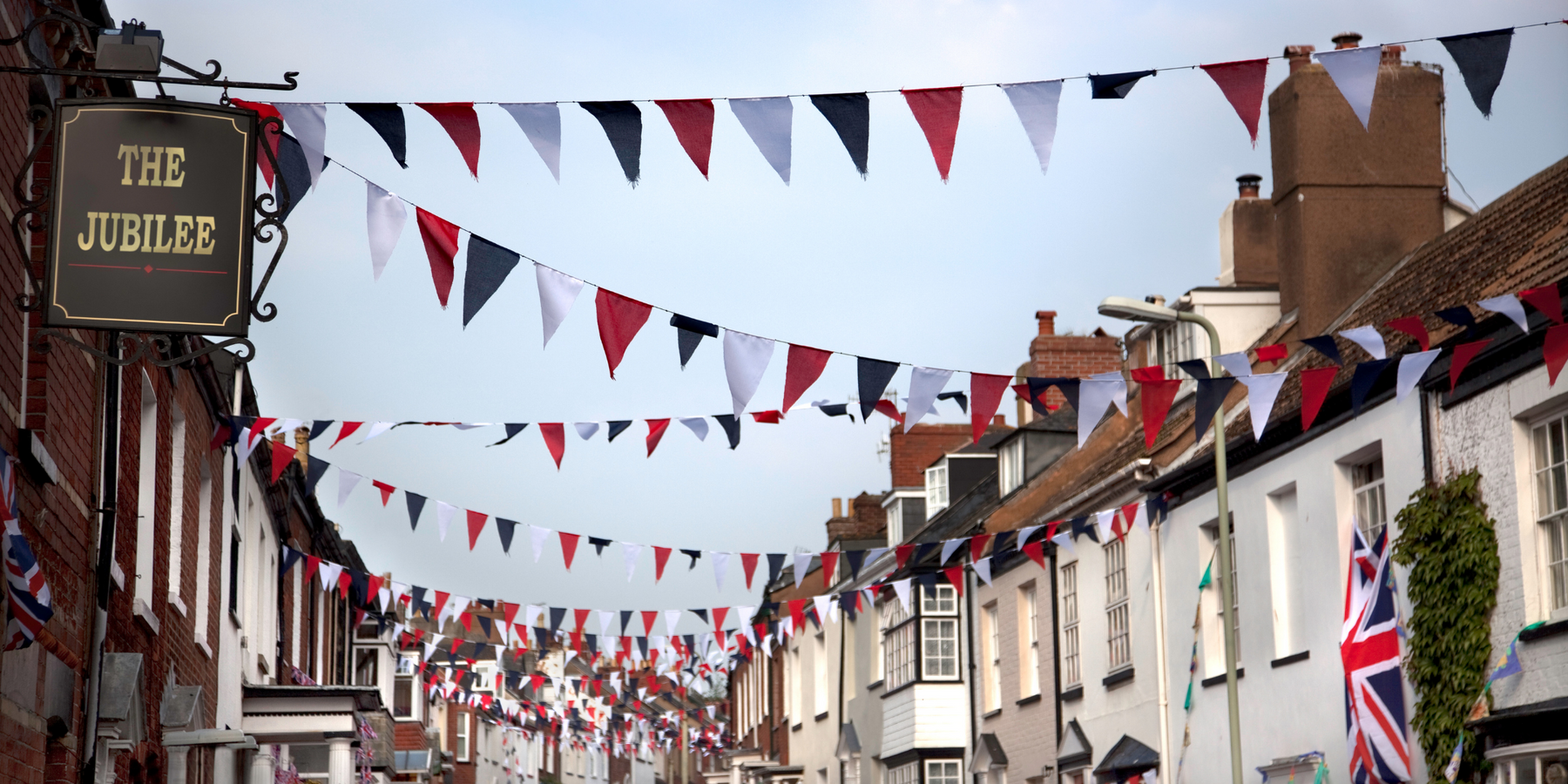 How to throw the ULTIMATE Jubilee Party
People up and down the country are preparing parties and celebrations for the platinum jubilee from 02 June.
A jubilee takes place after the monarch has ruled for a certain number of years, with this year marking 70 years of Queen Elizabeth II being crowned queen - making this the longest reign over Britain a monarch has ever held.
Whilst the Queen herself has a plethora of parties and soirees lined up, there are also a number of events happening up and down the country, from small afternoon teas amongst local groups to larger scale street parties for hundreds or even thousands of people.
This may seem like no mean feat (or should we say fete!), but to help you out, we've shared some tips on how to throw the ultimate jubilee party this June.
1. Plan ahead
Getting organised is important, especially planning a bigger celebration such as a street party. Local councils need to be brought in for approval and closing of streets to keep everyone safe. These often take some time to get over the line, so take this as a sign to quit procrastinating and start actioning.
The .gov website advises letting the council know 4-12 weeks before the event, if that has passed, there are still things that you can do, such as holding a smaller event, which is classed as a 'street meet' and doesn't require road closure.
So if time is of the essence, all is not lost!
Supermarkets are currently stocked up with decor and themed items for the occasion, but as we get nearer to the date, these will start to disappear, so if union jack cups, paper plates and napkins and bunting are must-haves, grab them while you can!
2. Keep waste to a minimum
Keeping the streets clean can be tricky, especially if your party spans into the hundreds! Choosing food and drink options that come with less packaging can help reduce the litter produced, and also enables you to be a little kinder to the planet.
There are lots of eco-friendly alternatives out there to choose from, such as selecting boxed wines rather than bottles.
Boxed wines usually contain the equivalent of three bottles, so there's less packaging involved, and the carbon impact of cardboard is much lower than glass, so your party will cause the planet less pain.
If you've opted for a slightly smaller shindig, which maybe doesn't require that much wine, there are paper wine bottles available too!
3. Offer delicious cocktails
Our friends at Bathtub Gin have also created a delicious cocktail for the occasion - The Bathtub Gin Jubilee Fizz!
They heard Her Royal Majesty the Queen was partial to a bit of marmalade on toast for breakfast. To celebrate this and her Platinum Jubilee, they made a marmalade cocktail with their multi-award-winning Bathtub Gin topped up with fizz for extra celebratory notes. Perfect with some cake and a street party!
Here's how to make it:
Ingredients 
50ml Bathtub Gin
1 tsp Wilkin & Sons Orange Marmalade
30ml fresh orange juice
English sparkling  wine to top
Method
Add all the ingredients except the English sparkling wine to a cocktail shaker with ice and shake well to combine. Pour through a cocktail strainer into a martini glass and top with English sparkling wine.
4. Cater for all
We've covered wine, but what about those who choose not to drink alcohol? You can't beat a good British cordial, and this one from Belvoir is no exception!
They launched a limited edition elderflower cordial alongside a sparkling elderflower beverage - a cordial way to celebrate the jubilee!
A good British cuppa is always a must, our fave has to be this Clipper Teas, a British company and part of the Ecotone family which has a host of flavours including Earl Grey, the Queen's favourite tea! Fancy!
Here's a snap of some of our favourite brands to include in your catering options. You can also head to our instagram page where one lucky winner will be able to bag themselves this prize! 
5. Be original
Don't be afraid to think outside the box a bit when it comes to catering. Whilst you can't beat a classic BBQ, it doesn't have to be as boring as a plain sausage or burger slapped in a bread roll.
BBQ kits can help quickly add a lot of flavour, and often include sauces and dips that vary from the usual old ketchup/mustard option.
Tracklement's Right Royal Pickle can add a lot of excitement to your cheeseboard too! 
6. Delegate and share the jobs
There's a lot involved in making a street party a success, so make sure you have a good team around you to make it happen. Play on people's strengths too, if you have a particularly good baker in your midst, make sure you take advantage of this and use their skills!
If you're time short however, this baking mix contains all the dry ingredients needed to make a jubilee cake, just adding a few simple cupboard essentials, so cakes can be crafted in minutes.
7. Let people know!
A party is only a party if people part-ake!
So make sure you spread the word. Popping posters up in local cafes or on notice boards can really help, but nothing beats taking the time to visit houses and personally invite the neighbours. It's also a lovely way to get to know anyone who may be new to the area.
Posting about the event on social media can help build awareness, be it sharing on your own profile and tagging neighbours, creating a Facebook event, or reaching out to local Facebook groups to spread the word.
We hope you have the best Jubilee weekend! Don't forget to tag us in any baking snaps if you share them on social media!