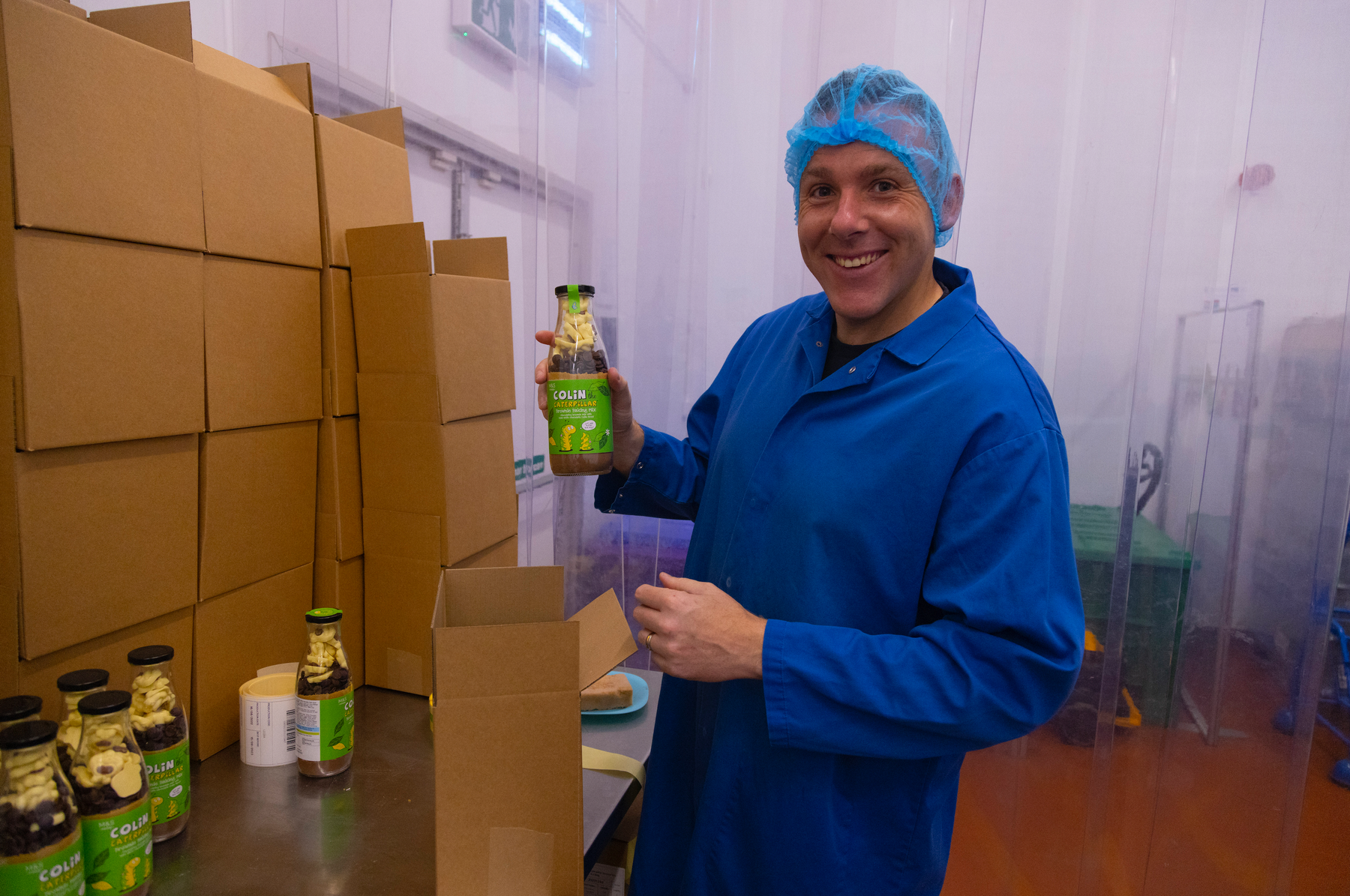 M&S x The Bottled Baking Co. - Introducing our Colin & Percy baking mixes
The baking of our Colin & Percy Brownie and Blondie mixes
If you're already following us over on our Instagram or TikTok, you may have seen that we've collaborated with the mighty M&S to create two very special mixes; a Colin the Caterpillar Brownie Baking Mix and a Percy Pig Blondie Baking Mix.
We caught up with our Founder Greg, who answered all your burning questions about our latest collaboration…
How did the collaboration with M&S come about?
"The now CEO of M&S spotted our Bottled Baking mixes in one of our other retail partner stores and thought the product would be a great fit for M&S customers. They approached us as the experts in creating delicious, high-quality and eye-catching baking mixes and the M&S team proposed we create a Colin the Caterpillar and a Percy Pig themed mix."
How long was the process from start to finish?
"From initial discussions to the bottles landing on M&S shelves, the whole process took around six months. We trialled the recipes several times, spent time ensuring we met M&S compliance requirements and blocked out two months for production. Our production space at our Leeds HQ has massively improved since working with M&S, as they helped us optimise our workflow.
What was it like at Bottled Baking Co. HQ turning around these mixes ready for stores? Any notable highs or lows?
"It's been busy! We blocked out 2 months production time for M&S exclusively and we've got even more time blocked out for the lines in the coming weeks to ensure we keep the shelves full for Christmas. This is all whilst juggling production of our Bottled Baking Co lines and Doggy Baking Co lines too. A notable high was getting our first full lorry load dispatched!  We've never shipped a full lorry load before. On the flip side, a low was that the box barcodes on the first shipment didn't work... so we had to change all the labels on that full lorry load. Nightmare."
What's it like finally seeing your mixes on the shelves of M&S?
"It's fabulous! Just this weekend I went into our local store with my son and as we went up the escalator into the food hall, I spotted the bottles on the shelves for the first time! My son clocked them too and was so excited he ran over to the shelves and shouted 'Look! There they are!' which was amazing. He's been sworn to secrecy for so long not to reveal these flavours, he's just as excited as I am about it all." 
How long will these Colin & Percy Mixes be available in M&S Stores?
"Colin & Percy are all year round lines, so you'll be able to grab them in store whenever you fancy. We're also in discussions around some new lines too, so keep your eyes peeled!"
Check out how to bake the M&S x Bottled Baking Co. mixes over on our socials…
Our very own in-house Bottled Baker Cristy demonstrates how to make these Colin the Caterpillar brownies in her latest reel 👇
Cristy has also baked the Percy Pig blondies from start to finish over on our TikTok! Check it out 👇
Be sure to tag us in any of your Percy or Colin bakes using the handle @thebottledbakingco on Instagram and @bottledbakingco on TikTok.