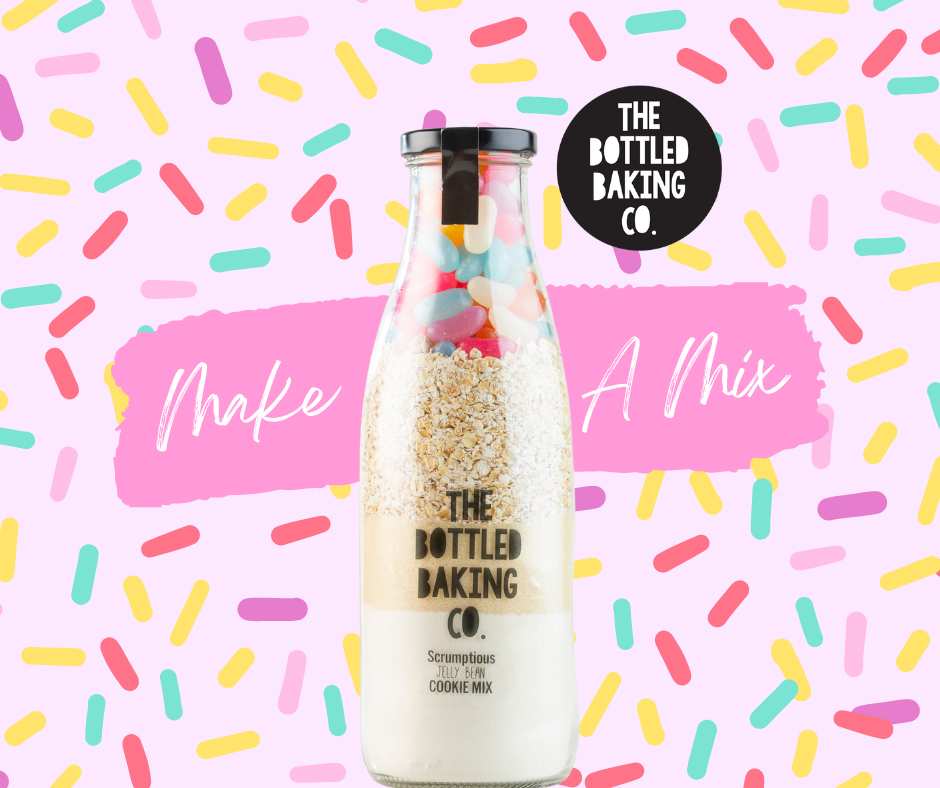 Our #MakeAMix competition has a winner…
Alfie Abbott, aged 6 from Gloucester!
We had so many entries which were whittled down to just one winner, which is 6 year old Alfie Abbott from Gloucester!
If you weren't already familiar with our competition, we asked kids from all over the country to come up with a brand new mix by drawing and designing the bottle, as well as the ingredients inside.  
Our winner came up with a mix called 'Alfie's Scrumpstus Rocee Road' 🥺 which translates to 'Alfie's Scrumptious Rocky Road'. 
His mix includes milk and white chocolate chips, raisins, biscuits as well as pink and white marshmallows - a 'scrumptious fridge cake'. 
Our winner was chosen by our carefully selected judging panel, made up of Great British Bake Off's Val Stones, UK's No.1 Children's Cookery Author, Annabel Karmel and Masterchef star Michele Rodriguez-Wise. 
What did the judges have to say? 
GBBO Series 7 star, Val Stones commented on the winning bake, saying:
"Alfie's mix was just superb. It was so creative, all the way down to the bits of paper stuck on with the ingredients. My grandchildren love making rocky road, so I can't wait to bake this with them once it's made!"
Michele Rodriguez-Wise, who finished as a quarter finalist in the 2021 series of Masterchef, was utterly charmed by Alfie's mix: 
"All of us judges were so excited when we saw Alfie's design. This bottle could even be the first Bottled Baking Mix which might not even need any extra ingredients - now that is a winning mix!"
So, what's next for our winner?
Not only will Alfie's mix be turned into a REAL LIFE mix, sold right here on our website, but Alfie will also be invited to Bottled Baking Co. HQ here in Leeds to see his bottle being made for real! 
As well as all of this, Alfie has won a year's supply of Bottled Baking Co. mixes AND a £150 toy voucher - how good is that?!
Who was the runner-up?
It was SO close between this mix and Alfie's, so we wanted to recognise the incredible creation of…
Aleksandra Wisniewska, aged 14 from Gravesend
Aleksandra created a 'Coconut, Strawberry & White Chocolate Muffin Mix' - which is entirely vegan, all the way down to the flour! 
Who else made it to the final?
Out of the many entries we had, we selected 10 finalists to be presented to our esteemed judging panel.

These were...

Sophie Wisniewska, aged 8 from Gravesend
Aleksandra's younger sister, Sophie, created a 'Heart Thumbprint Cookies Mix', made up of white chocolate, freeze dried raspberries, lemon zest, caster sugar and self-raising flour. 
Travis and Cassia Barlow, aged 10 and 7 from Manchester 
Travis & Cassia teamed up to design their 'Lemon Meringue Traybake Mix' which includes flour, sugar, shortcake chunks, meringue pieces as well as lemon and chocolate chunks.
Abbie McCallum, aged 6 from Glasgow
Abbie's design is a 'Terrific Chocolatey Tiffin Mix' which includes crushed biscuits, cocoa powder, sugar, chocolate chips and raisins. 
Ava-Rae Thomas, aged 14 from Coventry
Ava-Rae's design is a 'Blueberry, Lemon and White Chocolate Muffin Mix' which contains flour, sugar, dried lemons, dried blueberries and white chocolate chips.
Yusairah Patel, aged 12 from Gloucester
Yusairah designed a 'Cultivating Caramel Chocolate Fudge Cake Mix' which includes the essentials such as self-raising flour, baking powder and brown sugar, as well as chocolate chunks, fudge pieces and caramel on top.

Ted Yalden, aged 8 from Modbury
Ted's design is called the 'Terribly Tasty Firework of Sweetness Mix' - a white chocolate cookie mix with popping candy!
Charlotte Utech Payne, aged 10 from London
Charlotte's design is called the 'Love in a Bottle Mix' - a gluten-free vegan red velvet cake with hearts and gold ball sprinkles. 
Charlotte was on BBC Radio London earlier in the week, chatting about being shortlisted, which you can listen back to on BBC Sounds (1:51:45)
Yaasmin Russell, aged 8 from Middlesex
Yaasmin's design is called the 'Scrumptious Biscoff Cinnamon Swirl Mix' which includes plain flour, salt, cinnamon, Demerara Sugar and Biscoff crumbs. 
A HUGE thank you from all of us here at the Bottled Baking Co. 
We can't thank you all enough for taking part in our Make a Mix competition! 
We were utterly blown away by the amount of love, creativity and thought that went into each and every design - you guys have TALENT 👏