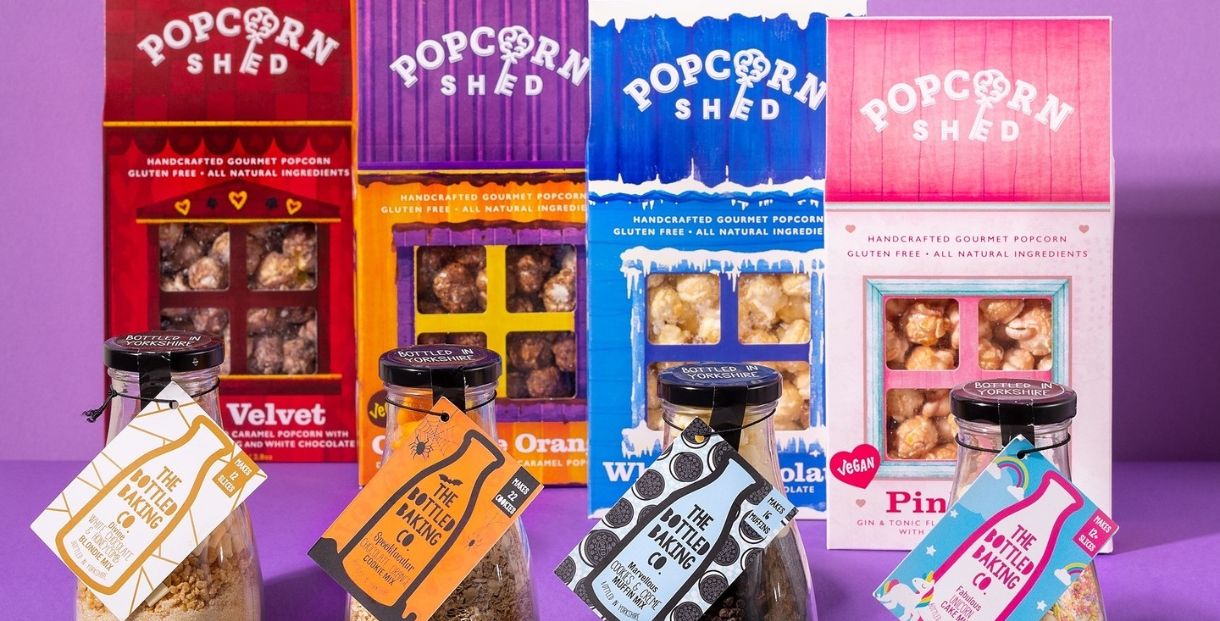 Popcorn Shed x Bottled Baking Co.
Introducing the wonderful people at Popcorn Shed!
If you've not already come across the wonderfully delicious Popcorn Shed before, they make incredible gourmet popcorn, coming up with the most whimsical flavours you could imagine. 
To date, the team have released over 27 scrumptious gourmet popcorn flavours, with more on the way too! 
The business started back in 2016, founded by cousins Laura and Sam, hosting operations from a garden shed. Flash forward to now and Popcorn Shed is listed in Waitrose, John Lewis and Harrods to name just a few stockists and is award-winning thanks to their multiple Great Taste Awards.
We've been stocking Popcorn Shed for some time now over on our shop and they go down an absolute storm with our customers. 
The team actually reached out to us for a collaboration over on our Instagram and we thought it would be the perfect opportunity to pair some of their new flavours with our very own Bottled Baking mixes!
Here's four of our favourite bakes from the collaboration…
Our giveaway included their BRAND NEW Red Velvet Gourmet Popcorn with White Chocolate and Cream Cheese Frosting (drools) as well as the White Chocolate and Caramel Gourmet Popcorn. 
Not only that, but the giveaway also included two vegan flavours, the Chocolate Orange popcorn and the White Chocolate and Caramel Gourmet Popcorn - what a treat. 
The team also shared with us a few of their new Christmas flavours, so here's how we paired them all up! 
So, here's how we paired them up!
Chocolate Orange Cookie Mix 🤝 Chocolate Orange Popcorn Shed
Check out these chocolate orange cookies we made for Halloween 🕸️
Obviously we were going to pair the Chocolate Orange Popcorn Shed with our Chocotastic Chocolate Orange Cookie Mix!
To make these, we simply added 1 large egg, 170g of softened butter and the juice and zest from one large orange to our Bottled Baking Mix. 
We also added a Terry's Chocolate Orange segment on the top (because why not add MORE chocolate orange 👀) before finishing the cookies off with these pieces of chocolate orange popcorn - an absolute treat. 
Extravagant Gingerbread Brownie Mix 🤝 Gingerbread Popcorn Shed
A match made in gingerbread heaven, we decided to use our Extravagant Gingerbread Brownie Mix and instead, turn them into cupcakes! 
For this, we used 4 large eggs and 150g butter alongside our mix to make the cupcakes. We then piped vanilla icing and drizzled some Carnation caramel on the top. One gingerbread man later and some Popcorn Shed Gingerbread popcorn and they were ready! 
You can see how we got on with this bake as well as our chocolate orange cookies in our latest reel 👇 
Divine White Chocolate & Honeycomb Blondie Mix 🤝 White Chocolate & Caramel Popcorn Shed
We decided to pair these blondie bites with the BRAND NEW White Chocolate & Caramel Popcorn Shed.
Adding the popcorn into the mix, as well as popping them on the top of our bakes added a crunchy texture - perfect for these blondies. 
We simply added 2 large eggs and 225g of very soft butter into the mix, along with a handful of popcorn. We then drizzled some icing over the top, with a dusting of icing sugar to create that snowy look. 
You can also check out one of our reels from the archives, which shows our in-house Bottled Baker, Cristy, making up these delicious blondies! 
Irresistible White Chocolate & Raspberry Tray Bake 🤝 Red Velvet Gourmet Popcorn with White Chocolate and Cream Cheese Frosting 
When we heard Popcorn Shed had launched a BRAND NEW Red Velvet flavour, we knew it would be a 'batch' made in heaven with our White Chocolate & Raspberry Tray Bake 🤤
Once our mix had been poured into a mixing bowl, we then added 60ml of milk, 150g softened butter, 3 large eggs and 50ml of vegetable oil. 
We also drizzled icing over our traybake and some icing sugar to dust, before adding the pièce de résistance - these heavenly Red Velvet popcorn pieces!
If you're looking for other ways to rejig our White Chocolate & Raspberry Tray Bake, Cristy has rounded up some of her favourite bakes she likes to make with this mix - check it out 👇 
Follow our Instagram to keep an eye on all our latest bakes
If you're after more baking inspo or perhaps you fancy checking out who else we're collaborating with, follow us on Instagram @thebottledbakingco and TikTok @bottledbakingco.