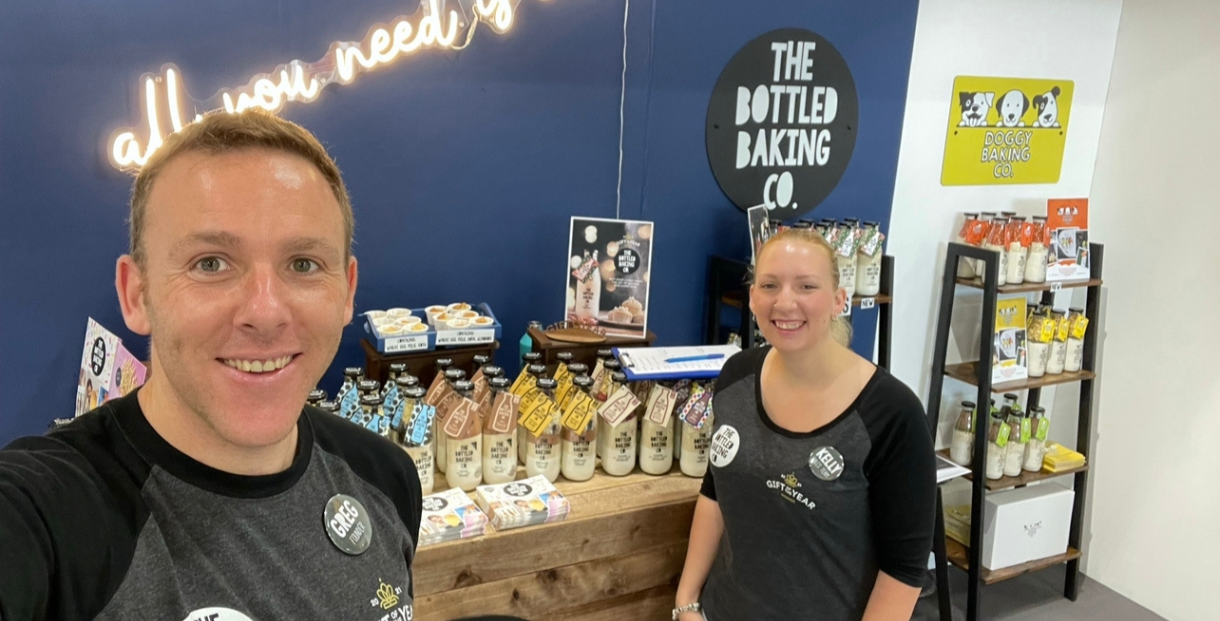 Our Full List of Trade Shows for 2023
Ever since Greg started the Bottled Baking Co., markets stalls and trade shows have been vital for sharing his wonderful mixes with the world! 
Over the years, the team have attended a fair few shows, not just in the UK but also as far as Dubai too! 
Fancy checking out Bottled Baking Co. at one of our shows?
Here's a full list of our shows for 2023:
Top Drawer

When: 15 - 17 January 2023
Where: Olympia London

Held from the 15-17th January, Top Drawer is the UK's leading design-led trade show, carefully created with buyers in mind.  
Taking place at the Olympia London, this show is the perfect opportunity for brands like us to showcase our product ranges in front of buyers, not just from the UK but all over the world!
If you're a buyer looking to attend or perhaps a brand looking to showcase your product, you can register to attend the event through their website.
Scotland Speciality Food Show
When: 22 - 24 January 2023
Where: SEC Glasgow 
Held at the SEC in Glasgow, the Scotland Speciality Food Show hosts over 500 companies, giving them the chance to showcase their products to retail buyers. From the 22nd - 24th January, the show is a fantastic source for inspiration when it comes to the best home accessories, giftware and of course, food and drink from not just Scotland but beyond too! 
For anyone who's interested in popping down and saying hello, our stand for this year is P43. We'll be showcasing some of our new products for the year, as well as our classics and of course, our Doggy Baking Co. range. 

Spring Fair 
When: 5 - 8 February 2023
Where: NEC Birmingham
Described as the 'UK's most vibrant marketplace for wholesale home, gift and fashion', Spring Fair takes place over four days at the NEC Birmingham, from the 5-8th February. 
The show is completely free to attend and you can register your attendance through their website. You'll find us in Hall 4, Stand 4B88!
Here's a video from last year's Spring Fair that our digital marketing agency Hexe Digital put together 👇
Gulfood Dubai
When: 20 - 24 February 2023
Where: Trade Centre 2 - Dubai - United Arab Emirates
For the first time ever, we've been selected to represent our country! A select few of the UK's best foodie gifts have been chosen by the team behind Gulfood - the world's largest food exhibition. 
Taking place in Dubai from the 20th - 24th February, our Chief Bottled Baker Greg will be there, showcasing a whole host of classic and new mixes. 
Gulfood 2023 will host a record 5000+ exhibitors from over 120 countries. As you can imagine, it's absolutely HUGE. There are over 24 halls, equating to over a million square feet of the latest F&B products & innovations.
Crufts
When: 9 - 12 March 2023
Where: NEC Birmingham
That's right, we're at the greatest dog show in the world! Last year, over 131,000 visitors attended Crufts in 2022 over the four days, with average viewing figures of 7,913,000!
It'll be our first year at Crufts and we are SO excited to share Doggy Baking Co. with visitors at the show! 
We'll be showcasing our bottles as well as our pouches at the show, which runs from the 9th - 12th March. 
To buy your ticket to Crufts, head to their website. 
Farm Shop & Deli Show
When: 24 - 26 March 2023
Where: NEC Birmingham
We'll be back at the Birmingham NEC again in March, this time for the Farm Shop & Deli Show.
If you've not heard of this show before, it's the best place to find quality local and regional produce. Spanning 3 days, the show will be packed with new product launches, live events as well as trend-setting food and drink. 
You'll find us at stand Q321 🙌 You can register your attendance through their website.
Autumn Fair 2023
When: 3 - 6 September 2023
Where: NEC Birmingham
The Autumn Fair follows the same format as its precursor, the Spring Fair. Taking place over 3rd - 6th September, we'll be showcasing some of our new Christmas mixes at stand 6F38! 
Here's a snap of Greg and Kelly at last year's Autumn Fair 🤩 
BBC Good Food Winter 2023
When: 23 - 26 November 2023
Where: NEC Birmingham
The BBC Good Food Winter Show is the ultimate festive foodie day out, packed full of the UK's favourite TV chefs as well as hundreds of producers (including us!). Anyone can attend this show and it's a great day out for sourcing Christmas presents and tasting delicious treats! 
To register your interest, you can head over to their website.
Come and say hello! 
We love meeting new customers and potential new buyers too, so please do come and say hello to us 👋