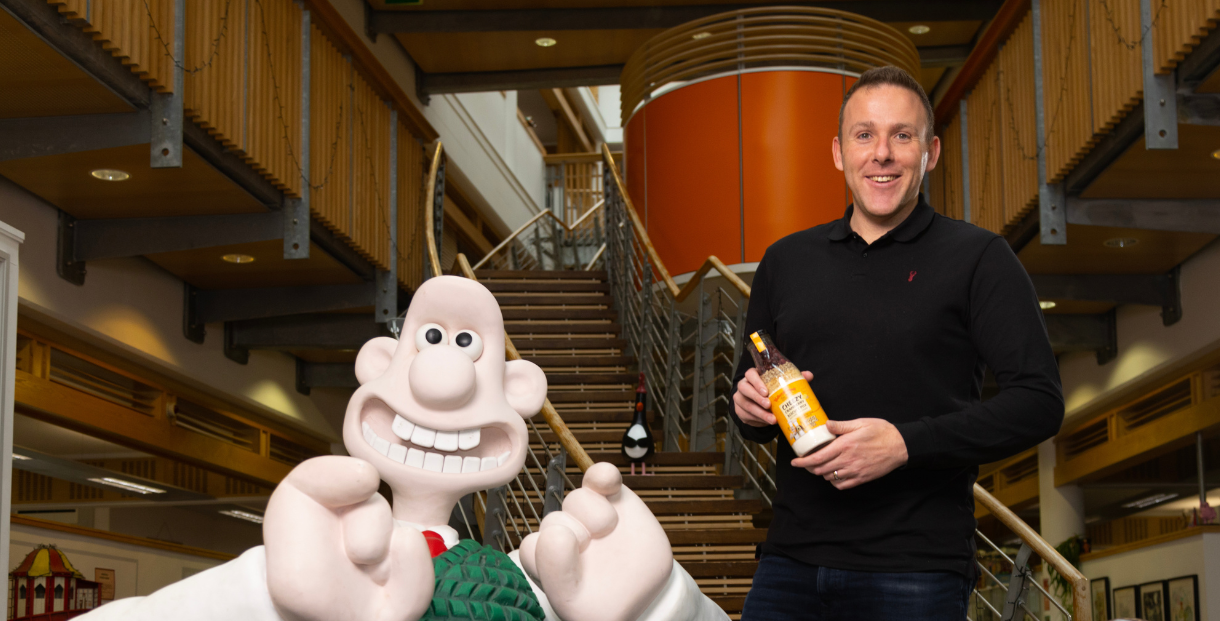 BEHIND THE SCENES: Our visit to the LEGENDARY Aardman Studios
If you've been keeping an eye on our Doggy Baking Co. Instagram, you'll have already seen that we've been working with the wonderful people at Aardman to create THE WORLD'S FIRST baking mix suitable for humans and their pooches!
To celebrate 30 years of the legendary film, The Wrong Trousers - Greg and the Aardman team have created a Wallace & Gromit Cheezy Cranberry Biscuit Baking Mix. 
Back in March, the team made the epic voyage from Leeds down to the picturesque city of Bristol to visit the iconic Aardman studios… here's a sneak peek of what we got up to 👀
Let's take a moment to appreciate the GIANT Shaun the Sheep…
As you enter the doors to Aardman studios, you're greeted by a 10 foot model of Shaun the Sheep, one of Aardman's most popular characters. 
Here's myself standing underneath Shaun, just to give you an idea of how big he really is!
If you weren't already aware, Shaun the Sheep made his debut in the 1995 Wallace and Gromit short film "A Close Shave" and was so well-received that he got his own spin-off series titled "Shaun the Sheep," which premiered in 2007. 
Since then, Shaun has won multiple awards and accolades, including a BAFTA Award for Best Children's Animation and an International Emmy Award for Children & Young People.
We were given a guided tour of their offices and they've got some pretty cool sights…
There's plenty of cool things to see at Aardman studios - Just check out this amazing mural created to celebrate 30 years of Wallace & Gromit!
PICTURED: Our marketing team Hexe Digital outside this Wallace & Gromit mural
This mural was created by Bristol Street Artist CHEO - check out the time lapse below of it all coming together 👇 
To help us celebrate #30CrackingYears of Wallace & Gromit, we invited Bristol street artist @cheograff down to our Gas Ferry Road studio to create this brilliant piece! 🧀#OurAardman #WallaceandGromit #Cheo pic.twitter.com/fuVTUEK8sD

— Aardman (@aardman) November 4, 2019
Next, it was time for our photoshoot 📸
One of the main reasons for making this epic voyage down to Aardman's Bristol studio was to capture some photos of Greg and the Aardman team with the new Wallace & Gromit bottle. 
Not only do the studios provide an epic backdrop for a press shot, but there are also some perfect props on hand too. 
Luckily for us, Wallace was on wheels, so we could position him perfectly next to Greg with the backdrop of those spiral stairs! 
We also grabbed a Gromit and plonked him on the other side of Greg for the shot. 
Extra points if you can spot Feathers… 

Did we get to see any film sets?
If you haven't already seen, there's a new Wallace & Gromit on the way! That's right, the Aardman team announced that there will be a new film released in 2024. 
This meant that a lot of the figurines and sets were elsewhere in Bristol for filming - fingers crossed we're able to get a sneak peek behind the scenes once it's all been filmed… 👀  
Following a period of hiatus for the Wallace & Gromit film franchise, the upcoming movie could serve as the welcome return that fans are looking for when it debuts. 
While little information is available about the film, it will reportedly debut globally on Netflix!
Have you got what it takes to become the REAL LIFE Wallace & Gromit?
Do you have a flair for inventing, like Wallace? Or perhaps you've pondered how much your pooch portrays dear Gromit?
Share your pictures and story with us to submit your entry and we'll get our casting crew and judges to decide if it could be you!
The winner will receive a Grand Day Out prize! To enter, head to the link below… you've got until Monday 15th May - GOOD LUCK!