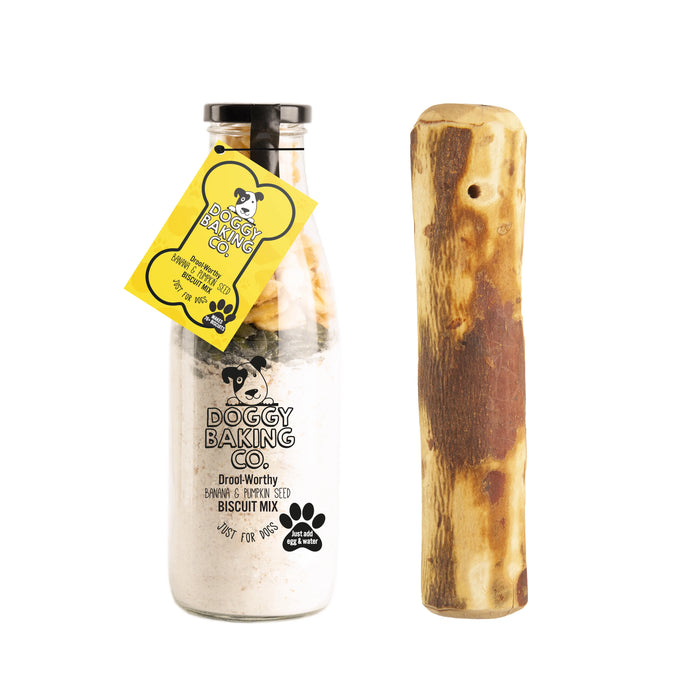 Pumpkin Seed & Banana Biscuit Mix & Large Olivewood Chew
Sale
Sale
Original price
£21.99
-
Original price
£21.99
Keep them well-fed and occupied for hours with this great deal. Includes:
Pumpkin Seed & Banana Biscuit Mix
A crunchy and nutritious quick treat for your dog. Perfect for rewards when training. Bakes up to 76 treats!
Large Olivewood Chew Toy
Satisfy their attention cravings with this olivewood chew. Keeps their teeth clean and their minds focussed. It's the 100% sustainable choice, made from annually-harvested wood and taken from managed Olive trees. With a strong, close grain and infused with virgin olive oil, this chew is safe for any dog — no matter the strength of their jaws.
No palm oil
100% Reusable Glass Bottle
Handmade in Yorkshire
Feeding instructions

Small dogs (1-9kg) = 3 pieces a day. Medium dogs (10-24kg) 5 pieces a day. Large dogs (25kg and above) 8 treats a day. May be fed at any time of day as a treat, reward or a tasty addition to your dog's main meal. Use our feeding instructions as a general guide to the requirements of a healthy, active dog. Supervise your dog when giving him/her the treat. Clean fresh drinking water should always be available. For your dog's health, respect the feeding guide and exercise daily.
Composition: Wholemeal Wheat Flour, Banana, Pumpkin Seeds. Allergen advice: Contains Wheat. May contain traces of Nuts, Peanuts and Sesame.
Analytical constituents per 100g dry mix: Protein: 11.5g; fat content: 9.9g; fibre: 9.4g; calcium: 30.8mg; fatty acids: 1.4g; energy: 372.5kcal. No additives
Store in a cool, dry place out of direct sun.
Freeze & defrost baked goods to last longer.
Additional Info

Requires 2 large eggs & water to be added

All instructions are included on the bottle tag. 

Our products are carefully hand made to create the decorative layers you all love and on occasion the ingredients may settle and sometimes mix during shipping.  Of course if this does happen the fun of the baking and the great taste of our products is unaffected.  You may need to shake the bottles firmly to empty out the contents.
Shelf Life 
All mixes have a 12 month shelf life from the date they are made. We aim to have a minimum shelf life of 6 months remaining when they reach you door, majority will arrive with 8-10 months remaining!

Per Unit Details 
| | | |
| --- | --- | --- |
| Servings | Bottle Size | Contents Weight |
| 76 | 750ml | 502g |
Olivewood Composition:
Olive wood, olive oil
Analytical Constituents:
Fibre 79.95, Ash 0.6, Fat 0.27, Protein2.07, Phosphorus 0.01 trace elements of Sodium, Magnesium, Potassium, Iron and Calcium.