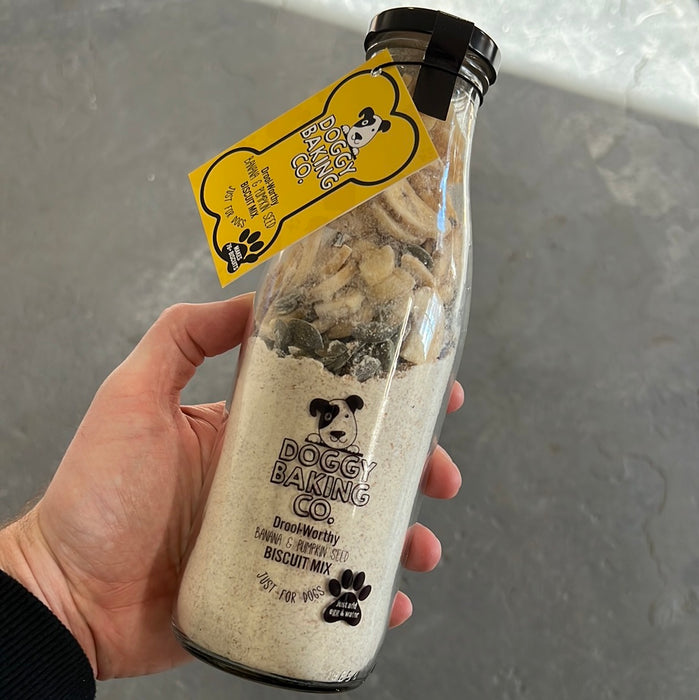 Reduced Drool-Worthy Pumpkin Seed & Banana Biscuit Doggy Bottled Baking Mix - 750ml
Sold out
Original price
£10.99
-
Original price
£10.99
Product Description 
Pumpkin & Banana - Biscuit Mix - Reduced
Exactly the same as our usual mix - It just may be a shaken up or it may be past its best before date. Perhaps not as pretty as usual, but still as scrumptious as normal! 
Pumpkin & banana? Yes! This combination is brilliant to bake loads of drool-worthy snacks for your four legged friend. These mixes have have gotten a bit shaken up, or be close to or just past their best before date, but they still taste great! 
Bake up to 76 doggy treats from a single bottle! 
Once baked store in an airtight container and use within 5 days or freeze for them to last longer. Makes sure these are fully defrosted before giving them to your doggies  🐶
Doggy Test:
Can you balance one of the biscuits on your dogs nose and count to ten without it falling off or your dog moving?
Yeah... us neither.. 
Palm oil free

100% Reusable Glass Bottle
Handmade in Yorkshire
Ingredients
Wholemeal Wheat Flour, Banana, Pumpkin seeds.
Allergen Information
Contains Wheat.
Shelf Life 
All mixes have a 12 month shelf life from the date they are made. We aim to have a minimum shelf life of 6 months remaining when they reach you door, majority will arrive with 8-10 months remaining!
Additional Information
Requires 2 large eggs & water to be added

All instructions are included on the bottle tag. 

Our products are carefully hand made to create the decorative layers you all love and on occasion the ingredients may settle and sometimes mix during shipping.  Of course if this does happen the fun of the baking and the great taste of our products is unaffected.  You may need to shake the bottles firmly to empty out the contents.
The shelf life on shaken up mixes may vary. These will almost always have plenty of shelf life, but on occasion the shelf life may be short or past the best before. 

Per Unit Details 
| | | |
| --- | --- | --- |
| Servings | Bottle Size | Contents Weight |
| 76 | 750ml | 502g |