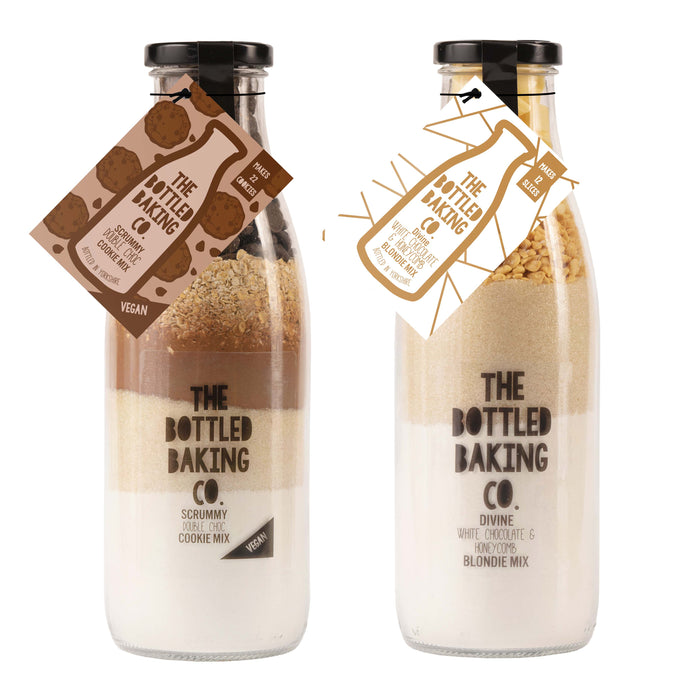 Double Choc Cookie and Honeycomb Blondie Baking Mixes in a Bottle
Sale
Sale
Original price
£20.99
-
Original price
£20.99
Product Description:
Satisfy all your sweet chocolatey cravings with this double-delicious baking bundle! Our Double Chocolate and Honeycomb Blondie Baking Mixes in a Bottle come with two scrumptious mixes for you to shake up, bake up, and enjoy. Plus, it makes for a killer gift for any chocoholic in your life. So, what are you waiting for? Get baking!
🐒 0 palm oil, 0 habitat loss
♻️100% Reusable glass bottle
✋ Handmade in Yorkshire
🌳 Buying a bottle plants a tree


Ingredients
Double chocolate cookies
Flour (Wheat), Sugar, Oats, Belgian Dark Chocolate (Cocoa Mass, Sugar, Cocoa butter, Emulsifier: Soya Lecithin, Natural Vanilla Flavouring), Cocoa Powder (Cocoa Beans, Acidity Regulator: Potassium Carbonate)
Dark chocolate contains 43% minimum Cocoa Solids
Allergen Information
Contains Wheat, Oats, Soya. Suitable for vegetarians and vegans.
Additional Information
Requires 250g very soft vegan butter (dairy butter can also be used, this would just no longer make it a vegan product).
Divine White Chocolate Honeycomb Blondie
Flour (Wheat), Sugar, White Chocolate (Sugar, Whole Milk Powder, Cocoa Butter, Skimmed Milk Powder, Emulsifier: Soya Lecithin, Natural Vanilla Flavouring) Honeycomb (Sugar, Glucose Syrup, Non-Hudrogenat- ed Vegetable Fat, Bicarbonate Of Soda, Rice Flour.)
White chocolate contains 28% minimum Cocoa Solids and 22% minimum milk solids.
Allergen Information
Contains Wheat, Milk, Soya. Suitable for vegetarians.
 Shelf Life 
All mixes have a 12 month shelf life from the date they are made. We aim to have a minimum shelf life of 6 months remaining when they reach you door, majority will arrive with 8-10 months remaining!

Additional Information
All instructions are included on the bottle tag. Lost your tag, don't worry, check out our
how to make guides
.
Our products are carefully hand made to create the decorative layers you all love and on occasion the ingredients may settle and sometimes mix during shipping.  Of course if this does happen the fun of the baking and the great taste of our products is unaffected.  You
 may need to shake the bottles firmly to empty out the contents
.
Servings
Bottle Size
Contents Weight

22

12

750ml

750ml

541g

580g

Diameter

Height
Product Weight

7.5cm

23cm
1.0kg