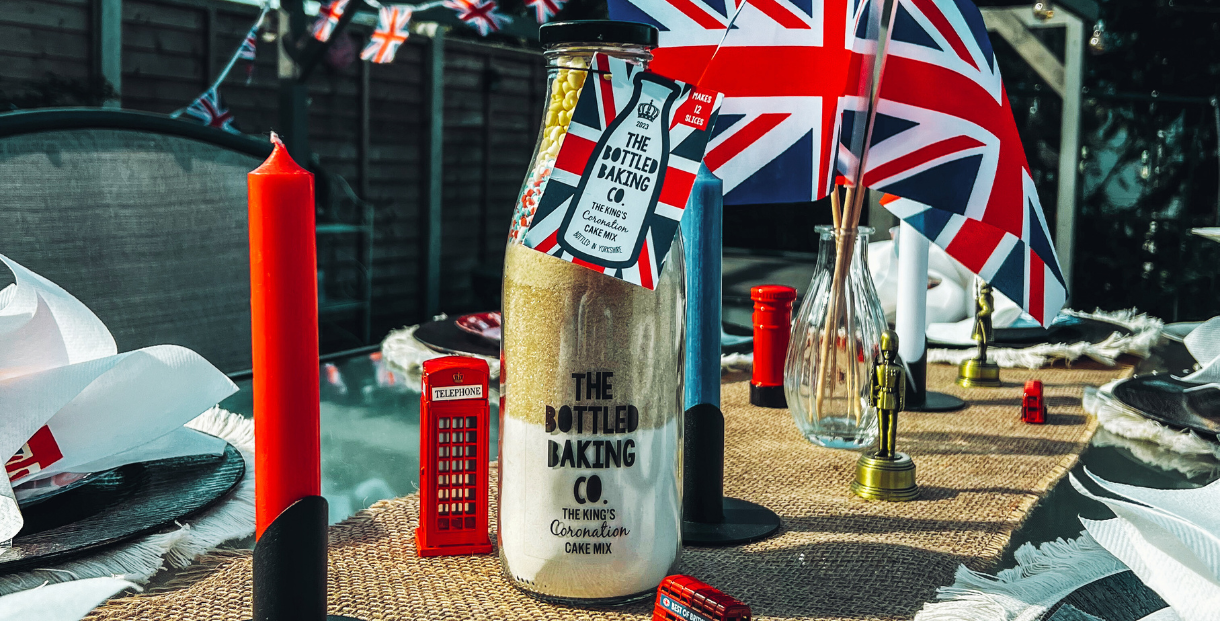 How to throw the ultimate afternoon tea for the King's Coronation
If you're looking to throw the ultimate afternoon tea for the King's Coronation, you're in luck! We've put together a step-by-step guide to help you plan and execute a fabulous afternoon tea party fit for a king 👑 🇬🇧
Step 1: Plan your guest list and theme
Start by deciding how many guests you would like to invite and what theme you want to go for. 
Hosting an afternoon tea is no mean feat, so maybe think about making it intimate, particularly if the weather isn't on side for the big day!
When it comes to the theme, you could go for the traditional British afternoon tea setup - royal blues, whites and reds. Or, perhaps you could go for a gold theme, a more luxurious feel that will really create a royal atmosphere. 
We've used Tableday's Coronation Street Kit, which includes union jack napkins, miniature red buses, matching candlesticks - the list goes on! It includes everything you may need to set the table - how fabulous! 
Step 2: It's time to plan what you will serve! 
This is our favourite part, planning the afternoon tea menu! As you're probably well aware, the typical 'British' afternoon tea includes scones, little sandwiches and of course, those sweet treats and cakes. 
It's up to you whether you'd like to stick with that tradition, or perhaps you could spice it up a little! 
If you're looking to bake up lots of cakes, cookies or muffins for your afternoon tea - our mixes are not only super speedy to make, but they also come without the mess and fuss of your typical cake baking afternoon! 
Step 3: It's time to lay the table!
As we mentioned, we used Tableday's kit to create our tablescape. If you've already got some British tableware at the ready, here are some tips on how to lay the table… 
Create a centrepiece
The eye is typically drawn to the centre of the table, so we need to make sure we make an impact with our centrepiece. 
Start by rolling out a table runner, this will be what your centrepiece will sit on. Make sure the table runner is either the main colour from your scheme (for example gold) or your accent colour (for example navy). 
For the centrepiece itself, you could go for one major piece or you can choose several pieces which balance each other out. 
It's time for the placemats & charger plates
Placemats and charger plates not only make the occasion feel super special, but they also help protect from any spills too! A placemat that matches your colour scheme is a must, it helps tie everything together nicely. 
Folding the napkins
If there's one golden piece of advice from us, always use napkin rings! Folding napkins can be rather time consuming and it can be really tricky sometimes to get the desired look you might want. 
With a napkin ring, you simply layer the two napkins (both paper and airlaid) over one another, pulling the ring through to keep them in place. 
Finish the table off with place cards
The final finishing touch is putting the place cards down for each guest. We love to add an extra little red bus or British figurine next to each place card as it just adds to the overall look and feel.
Step 4: Create a right royal ambience
Whether you create a classical music-filled playlist or perhaps one filled with cheesy best of British hits, music is a great way to set the mood for the tea party! Better yet, pop the Coronation live as it happens on TV!
Step 5: Last but not least, HAVE FUN!
Playing host can sometimes be a little stressful but it's supposed to be a joyous occasion so relax! Preparation is the best way to ensure it all goes smoothly on the day and it's important that you're having as much fun as your guests!
Our King's Coronation Cake Mix will level up your afternoon tea!
Let your royal taste buds rejoice! Our King's Coronation Cake mix has everything you need to make a truly regal, Coronation-worthy cake. You can expect a grand entrance of red, white, and blue sprinkles and a decadent serving of white chocolate that'll make your inner monarch dance. 
Our in-house Bottled Baker Cristy demonstrates how to bake them up - check out the reel 👆