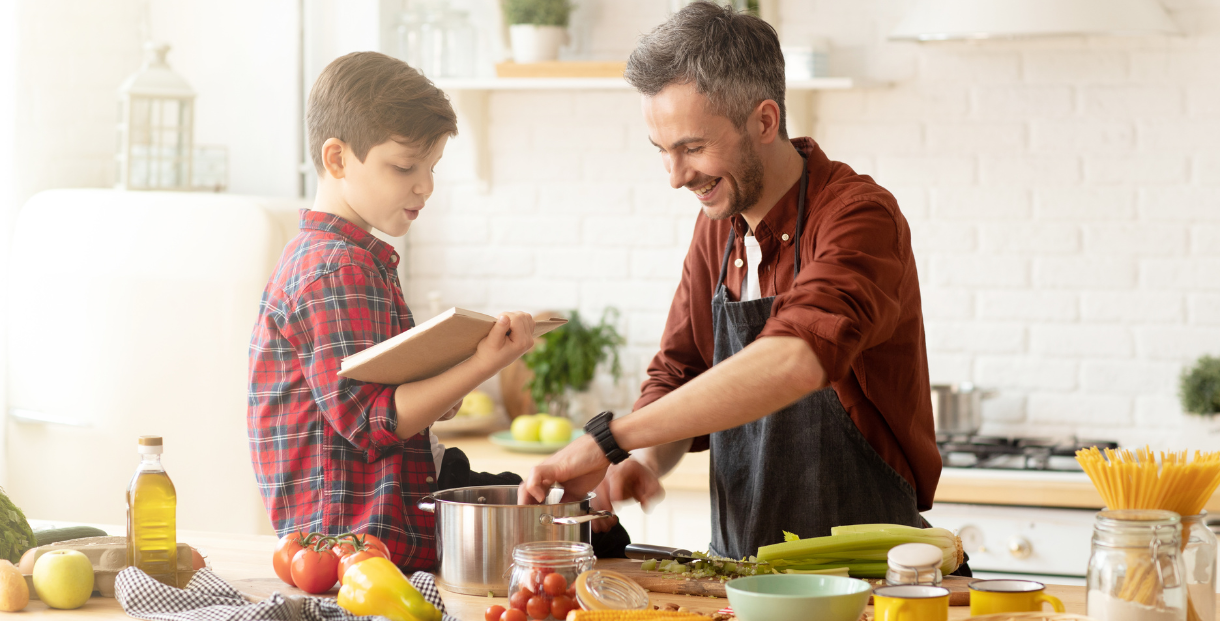 Easy Cooking Ideas for Kids
Cooking and baking with kids can be a fun and rewarding activity – for parents and children alike. Not only does it allow little ones to learn new skills and develop an interest in cooking, it can also be a great way for families to bond and spend quality time together.
However, finding recipes that are easy enough for children to follow can be a challenge. Luckily, making baking and cooking easy (and less messy!) for kids and their grownups is our speciality at The Bottled Baking Co!
So, we've put together a list of 5 easy recipes to bond over making that are sure to be a hit with the whole family.
Pizza Rolls
Pizza rolls are a fun and easy snack that children can make themselves (with a little oven help from an adult, of course). To make pizza rolls, you'll need a package of crescent rolls, pizza sauce, shredded mozzarella cheese, and your choice of toppings (such as pepperoni, diced ham, or vegetables).
Preheat your oven to 190°C and line a baking sheet with parchment paper.

Unroll the crescent rolls and separate them into triangles.

Spread a spoonful of pizza sauce onto each triangle and sprinkle with shredded cheese and your chosen toppings.

Roll up the triangles and place them on the baking sheet.

Bake for 12-15 minutes, or until golden brown.
Rainbow Fruit Salad
Rainbow fruit salad is a healthy and colourful treat that your child will love to make and eat. To make rainbow fruit salad, you'll need a variety of fresh fruits in different colours, such as strawberries, oranges, pineapple, kiwi, blueberries, and grapes.
Have your child wash and chop the fruit into bite-sized pieces and arrange them in a rainbow pattern on a large platter or in individual bowls. You can also add a dollop of yoghurt or whipped cream on top for a little extra sweetness.
Cheesy Quesadillas
Cheesy quesadillas are quick and easy to do, making them perfect for lunch or as a snack.
To make cheesy quesadillas, you'll need flour tortillas, shredded cheese, and any fillings you like, such as diced chicken, black beans, or vegetables.
Heat a non-stick skillet over medium-high heat.

Place a tortilla in the skillet and sprinkle with shredded cheese and your chosen fillings.

Top with another tortilla and cook for 2-3 minutes on each side, or until the cheese is melted and the tortillas are crispy.
Chocolate Dipped Pretzels
Chocolate dipped pretzels are a sweet and salty treat that kids can make with just a few simple ingredients. You could even use them as decoration for one of our baking mixes - they'd be delicious with our gingerbread brownies!
To make chocolate dipped pretzels, you'll need pretzel rods, chocolate chips or candy melts, and any sprinkles or toppings you like.
Melt the chocolate or candy melts in a microwave-safe bowl according to the package instructions.

Dip the pretzel rods in the melted chocolate and use a spoon to coat them evenly.

Sprinkle with your chosen toppings and place on a sheet of wax paper to cool and harden.
Homemade Ice Lollies
Homemade ice lollies are a refreshing and healthy treat that kids can make with just a few ingredients.
For homemade ice lollies, you'll need a popsicle mould or small paper cups, fruit juice or puree, and any chopped fruit or berries you like.
Fill the popsicle moulds or cups with fruit juice or puree and add the chopped fruit or berries. Freeze for several hours or overnight, until the ice lollies are solid. To remove the ice lollies from the moulds or cups, run them under warm water for a few seconds.
We can't wait to see your creations!
Cooking with kids can be a fun and educational experience that helps them develop important skills and a love for healthy food – and by constantly encouraging the trial of new things, it may lead to less fussiness at the tea table too! You can thank us later!
Try out these easy and delicious recipes together and don't forget to share your creations on socials!
Instagram: @thebottledbakingco
Facebook: www.facebook.com/Bottledbaking 
TikTok: @bottledbakingco