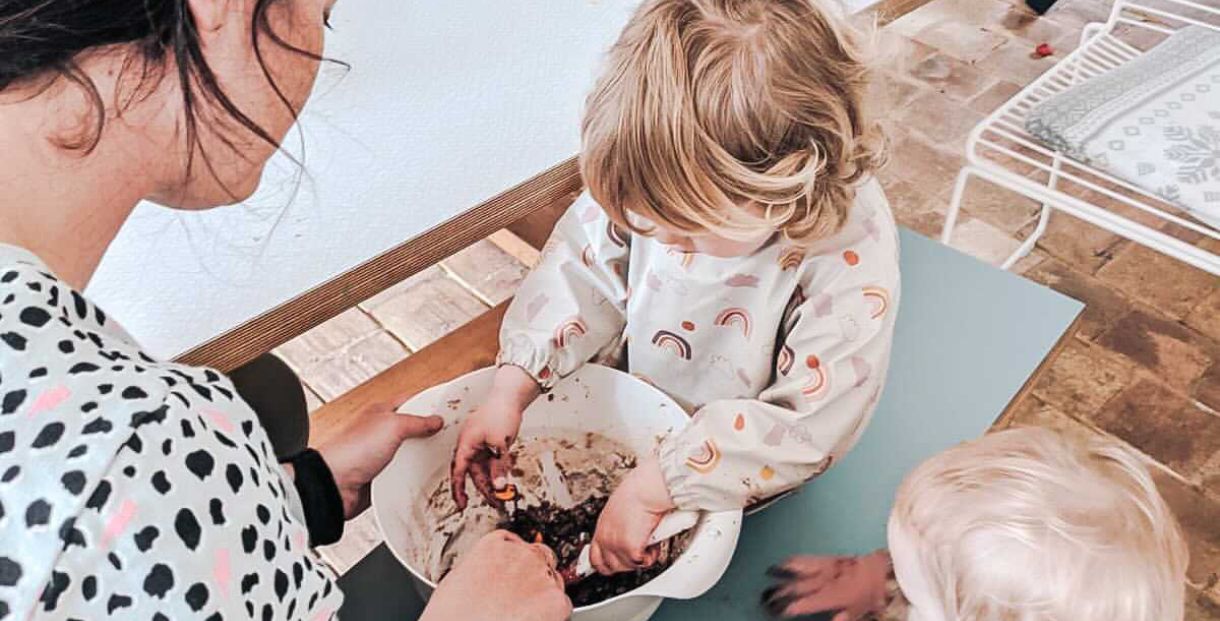 What can I bake with a 3-year-old?
Not only is baking a great way to spend time with our little ones, but it's also crucial when it comes to their development too!
Did you know that baking with toddlers not only helps improve their motor skills (pouring, mixing and whipping will strengthen their muscles) but baking can improve their communication skills, as well as the beginnings of their reading and writing skills? 
Your toddler will also feel a huge sense of achievement once they see their finished bakes. Plus, they get to eat them too… 😋
However, if you're as safety conscious and mess-adverse as us, then you'll know that baking with a toddler can be a bit of a challenge. 
We've rounded up some of the most simple bakes you can do with your 2-3 year old.
Here's our favourite 'beginner bakes' you can try with your little one…
White Chocolate & Honeycomb Blondies
Our White Chocolate & Honeycomb Blondies are super easy to bake with little ones.
All you need is 225g of butter, 2 large eggs, a cake tin and some greaseproof paper. 
As the very sweet Belle demonstrates in her mummy's reel, simply pour all the dry ingredients into a bowl and crack two eggs into the mixture (Belle hasn't quite mastered this yet but it's a great way to practice).
Pop the butter into the bowl and give it all a good ol' mix. Pop the mixture into a lined tin and bake for 25 - 30 minutes at Fan 160 / Conventional 180 / Gas 4.
Eggcellent Mini Egg Cookies
Our Limited Edition Eggcellent Mini Egg cookies are a firm favourite amongst toddlers, as they're super easy to bake and just one bottle makes 22 cookies! 
Little Primrose and her mummy @mama_annabel.x gave baking them a go and as you'll see, she has no problem cooking up an absolute feast!  
Simply add 170g of butter, 50ml milk and 1 large egg to the dry ingredients and mix it all up. Divide the mix into 3cm balls and pop them evenly spaced on your trays, pressing them lightly with a fork.
Bake for 12-14 minutes (same temperature as the blondies) and voila!
White Chocolate & Raspberry Tray Bake 
There's nothing easier than a good ol' traybake and our Raspberry and White Chocolate Traybake is a winner with the kids! 
Little Thomas and his mummy @rahrahjam baked this traybake AND it was Thomas' first EVER bake - what a privilege! 
Thomas adds 60ml milk, 150g softened butter, 3 large eggs and 50ml of vegetable oil to our mix, simply pouring the mixture into a tin and baking for 25-30 minutes (same temperature as our previous bakes) or until a knife poked into the middle comes out clean (that's a grown-up's job of course).
Percy Pig Blondies 
Our newest collaboration with M&S has been so popular, particularly with 2 - 3 year olds. 
As you can see, little Ada here is giving this mix a go, simply adding 170g butter and 2 medium eggs to the mix. 
Simply pop the mix in a lined baking tin and straight in the oven (with a grown up's help) for 30 minutes and they're ready!
We've got an EVEN easier baking mix on the way too… 👀
That's right, after winning our #MakeAMix competition - Alfie Abbott, aged 6 from Gloucester, will be having his 'Scrumpstus Rocee Road' made into a real life bottle - our very first no-bake mix!
This will make it so much easier for all those toddler bakers out there to get stuck into their very first bakes and also for parents too, who won't have to worry about their little one getting near the oven!
Greg and Alfie will be working on the mix into the new year, so keep an eye out for any sneak peeks 🤩