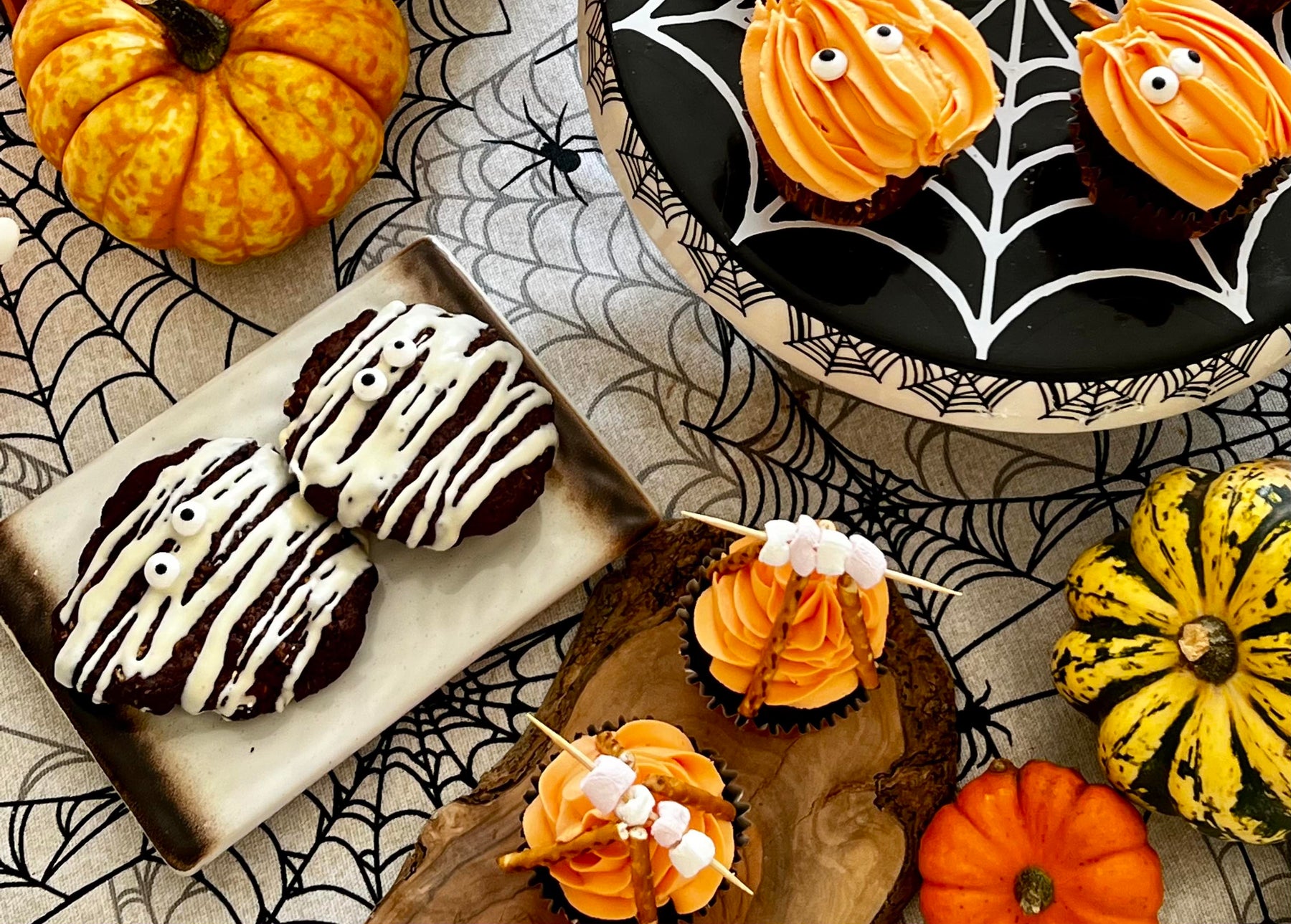 Five Halloween bakes perfect for a party
Try these five Halloween bakes - perfect for a party
Spooky season is here so don your witch hat and suitably spooky apron whilst our in-house Bottled Baker Cristy shares five Halloween bakes perfect for a party.
First up, give these Creepy Mummy Cookies a go…
Using our very own Spooktacular Halloween Chocolate Orange Cookie Mix, we baked 22 of these scarily tasty cookies - perfect for a party filled with hungry boys and ghouls! 
To create the mummy effect, simply drizzle some white icing sugar horizontally over the cookies. Pop in a pair of googly eyes and there you have it - these mummy cookies will go down an absolute treat. 
Sink your fangs into these Ghosty Muffins 
So simple but so effective, these Ghosty Muffins will be great Halloween bakes that are perfect for a party! 
Why not use our Marvellous Cookies & Creme Muffin Mix for the Muffin base? For the ghosties, you can use any leftover mix to create miniature cake pops which can stick into the muffins. 
Carve out a circle in white fondant icing and then drape it over the top of the cake pop. Attach some googly eyes to the ghosties using icing sugar and ta-da, your Ghosty Muffins are good to go! 
Check out these party-perfect Pumpkin Cupcakes
Now, if you're looking for some Halloween bakes perfect for a party, look no further than these Pumpkin cupcakes - how CUTE are these?!
We used our Extravagant Gingerbread Brownie Mix for these, because why not bring a little bit of Christmas into the mix as well! We divided the mixture between 12  cupcake cases and popped a straight pretzel on top. (this will be the stalk of your pumpkin).
We also used orange frosting to create this piped pumpkin look, finishing it all off with two googly eyes to help bring them to life - aren't they cute?
The perfect centrepiece for your halloween party! 
Why not bake some devilishly delicious Doggy Baking Co treats for any furry friends in attendance? 
Did you know that pumpkin is a superfood for dogs? That's right, pumpkins are great for a dog's gut health and have lots of fibre in them too! The seeds can even be eaten and used as treats as they're rich in magnesium. 
Use our Paw-licking Carrot Cake Doggy Baking Co Cake Mix and pop a few pumpkin seeds in the mix. You could even steam some pumpkin and include that in the mix too, it'll complement the carrot cake perfectly! These will go down a treat for your Halloween pawty. 
These Bonfire Cupcakes will be sure to go off with a bang…
Once Halloween is over, Bonfire Night is the next seasonal-themed social in the calendar.
What better way to get your party-goers excited for the 5th November than with these Bonfire Cupcakes? 
There were a few cupcakes leftover from our Pumpkin Cupcakes bake, so we thought what better way to put them to good use and created these! 
We had some orange frosting left, so we piped that to look like flames and used some more of those straight pretzels, this time to create the bonfire wood. We even popped some mini marshmallows on a cocktail stick to top off our bake. 
So simple yet how clever are these?!
The finishing touches… 
Now that you've got the bakes sorted, let's make sure that table decor is on point too. 
Personally, we love what the guys over at Tableday have put together for their Halloween table setting kits. Choose between their 'Gothic' or 'Pumpkin Patch' sets, depending on what sort of vibe you're going for.  
We'd love to see your Halloween party pics, so go ahead and tag us on Instagram using our handle @thebottledbakingco or over on TikTok using @bottledbakingco - HAPPY HALLOWEEN FOLKS!