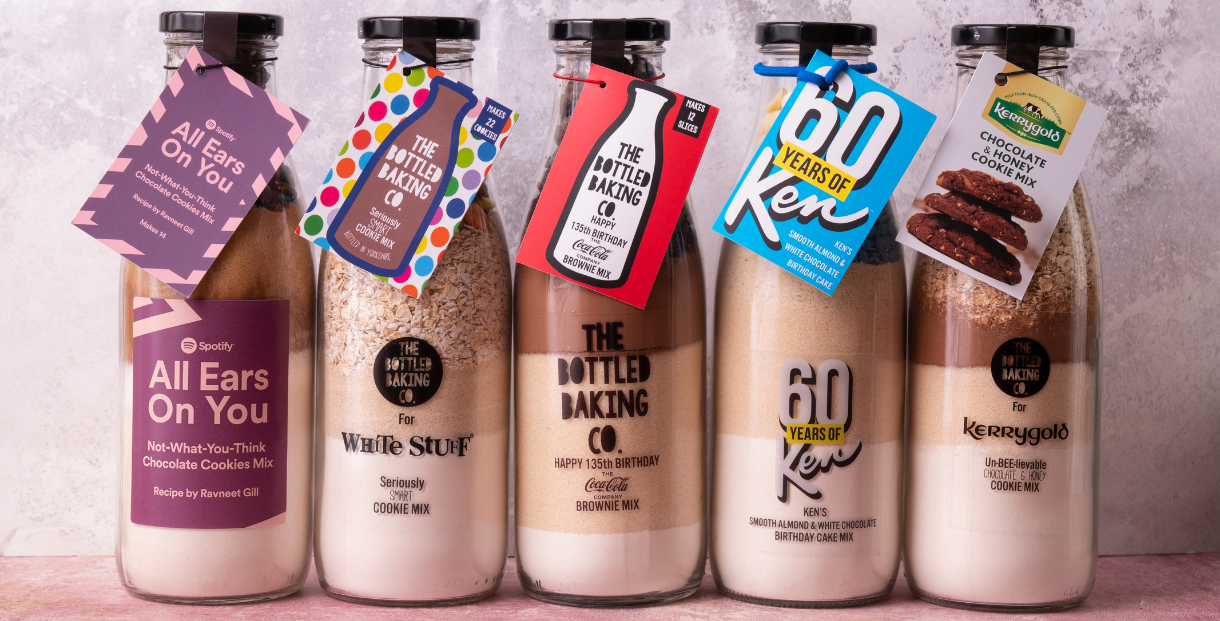 Our limited edition baking mixes - the perfect corporate gift
Whether you'd like to celebrate a loyal relationship with a supplier or say thanks to a very special member of the team, our limited edition mixes can make the perfect corporate gift! 
You can choose from a selection of our pre-assembled gift boxes or even create your own! 
Not only that, but we can work with you to create bespoke company branded mixes, all of which are handmade in our production space here in Yorkshire.
We can also deliver their gift straight to their door, making it personalised to them with those finishing touches. 
If you're looking to order in bulk, do get in touch with us as we offer a special discount for those who do!
So, who have we made bespoke bottles for I hear you ask… 
As you can see above, we've worked with some preeeetty big names over the past few years. Whatever the occasion or however crazy a request may seem, we're always happy to hear from brands, both big and small. 
Let's talk a little bit more about how we got to work with some of these huge brands then shall we? 
All Ears On You - Creating a bespoke mix for the team at Spotify 
After seeing our bottles on the shelves, the team at Spotify reached out to us for a bespoke mix they had in mind. 
Spotify were hosting a music event where Ravneet Gill, Judge of Junior Bake Off, was in charge of making food for the guests. The team wanted one of her recipes bottled so that the attendees could take one home and bake it. 
So, we created a bespoke chocolate cookie mix and bottled it up with that very familiar Spotify branding.
We even went to the trouble of replacing our 'Made in Yorkshire' sticker with a Spotify logo - just look at that! 
Coca-Cola's 135th Birthday Brownie Mix
During those not so long ago lockdown days, we had the team at Coca-Cola approach us after also seeing our mixes on the shelves! 
They were celebrating their 135th birthday (yes, 135 can you believe it?) and needed some help with a birthday cake. Every year, the team make their own Coca-Cola cake, in which the recipe actually includes Coca-Cola in it! 
Similar to Spotify, the Coca-Cola team wanted their staff to take home and bake their own cake so we created a bespoke flavour just for them. 
We actually found that Coca-Cola went rather well with a brownie recipe we had created, so we bottled it up and branded it ready for the team to go home and bake! 
Celebrating 60 Years of Ken with Mattel
This bottle was very fun to create for the team at Mattel, who look after all of those well known and well loved toy brands you've heard of - including Barbie! 
To mark 60 years of her co-star Ken, the team at Mattel were organising a press event to celebrate. They saw our bottles and wanted us to create a bespoke birthday cake mix for attendees and so we created a smooth almond & white chocolate birthday cake mix - it went down a storm! 
Personalising one of our original mixes for White Stuff
Now sometimes brands will come to us and say how much they love a particular mix of ours. We don't always have to create a brand new flavour and we're more than happy to brand up one of our original mixes for whatever the occasion is! 
We did exactly this for White Stuff who loved our Seriously Smart Cookie Mix so much that they wanted to create a co-branded line which they could sell in their shops as a limited edition mix. 
We love working on co-branded mixes as it still gets The Bottled Baking Co. name out there, particularly alongside some mega brands!
Are you looking for the perfect corporate gift?
If you've liked the sound of what we've done for other brands and want a slice of the action yourself, do get in touch with us using the form over on our corporate gifting page!