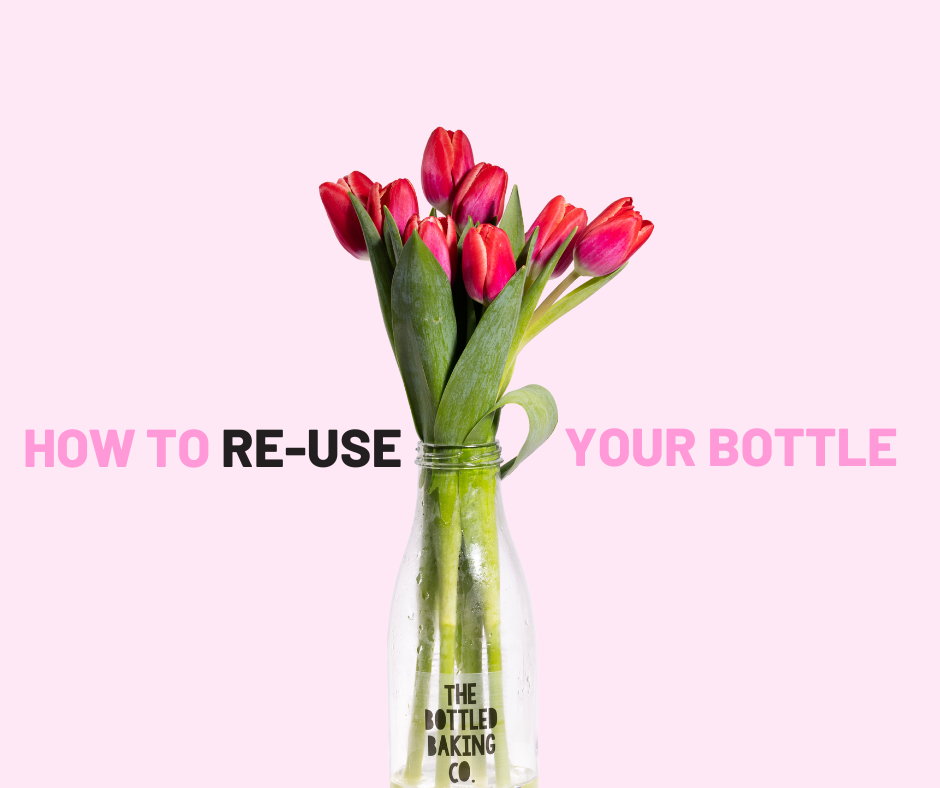 Five ways to reuse your Bottled Baking Co. glass bottle
Here at the Bottled Baking Co., we pop all of our delicious cake mixes and cookie mixes into reusable glass bottles. Glass is a forever material, meaning you can recycle it again and again, indefinitely! 
However, we'd prefer if our bottles were given a new lease of life and we've got some great ideas on how you can do just that👇
First up, use your glass bottles to store your dry cupboard essentials
Forget buying brand new glassware for your store cupboard essentials and instead, repurpose our glass bottles! 
Clear bottles and containers are bang on trend at the moment, particularly when creating that 'Instagrammable' pantry. 
If you've got pasta, rice or any other dried essentials sitting in their plastic bags right now, decant them into the reusable glass bottles. You can do so by simply grabbing a piece of paper, creating a funnel and setting it on top of your bottle to pour the contents in.
We took some of our empty bottles down to our local Waitrose to refill them with rice, popcorn - you name it! Check out our reel👇
Use your glass bottle to make yourself a protein shake 🤤
Be sure to give your glass bottles a thorough wash before reusing them, particularly if you're going to drink from them! 
Our in-house Bottled Baker, Cristy, made a protein milkshake to go into an empty White Chocolate & Raspberry Traybake bottle. 
To make the shake, simply: 
Pop some Biscoff spread around the the rim of the bottle (or skip this part if you're looking for something a little healthier)

Put one large ice cube, 400ml coconut milk, 1 banana, 1 scoop of protein powder and a knob of biscoff spread (again this is optional) 

Blitz altogether and pour into your empty Bottled Baking Co. glass bottle

Top up with some whipped cream (again, you can always leave this out) and pop a straw in - enjoy! 😋
See how Cristy makes it here👇
Pop your freshly baked doggy treats in our glass bottles 
Our reusable glass bottles make the perfect container for all your Doggy Baking Co. treats! If you've not come across our spin-off Doggy Baking Co. before, we put all of the dry ingredients you need to bake delicious dog treats in one reusable glass bottle.
We've got a carrot cake mix, pumpkin seed & banana biscuit mix as well as a linseed, oregano & parsley biscuit mix!
Once you've baked your doggy baking biscuits up (cake may not quite work for this one!), you can pop your cooled treats back in the bottle.
Use our glass bottle as a flower vase
So inundated with flowers that you've run out of vases to display them in?
Our reusable glass bottles can make the perfect vase, as you can personalise it too! Grab a hot glue gun and jazz the bottle up a bit by popping on some gems or perhaps tie some ribbon around the neck of the vase. 
Of course, you can just proudly display the Bottled Baking Co logo for everyone to see!
Create a home for your plants
Houseplants can be hard to look after, especially if you're too busy baking to remember to water them. ahem. Oops...
However, certain types of plants can be self-sustaining, given the right environment. A while back, we teamed up with London Terrariums to teach our bottled bakers how to create a home for their greenery, given the right tools.
We can confirm, our terrarium is still happy, healthy and housing a plethora of plants!
Here's the video of our workshop, so you can go ahead and build your own...
Our pledge to the planet!
We're super duper passionate about being kind to the planet! We even plant trees for each purchase made! You can see how many we've planted so far here! 
Repurposing your glass is such a great way to turn your trash into treasure. Of course, if you can't find a new need for our bottles, please don't throw them away and recycle them instead.
Have you crafted anything cool, post-bake, with our bottles? Tag us on Instagram using the handle @thebottledbakingco or @bottledbakingco over on TikTok! ♻️