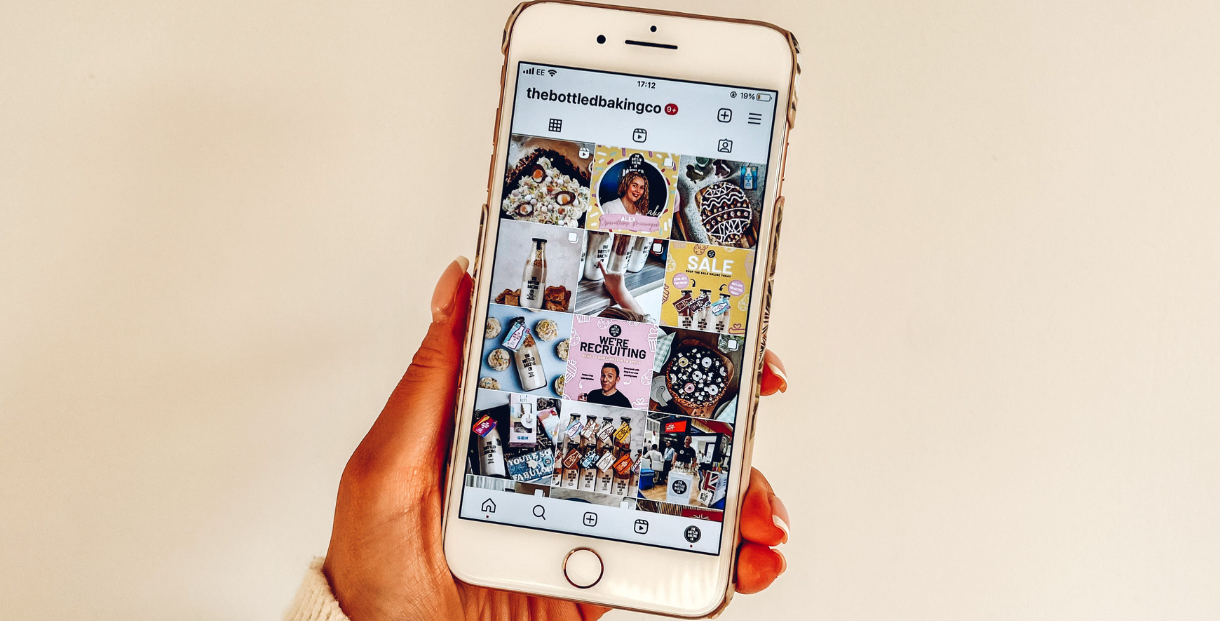 Our Most Popular Instagram Posts From 2022
2022 was a pretty good year for us here at The Bottled Baking Co! We worked on some major collaborations as well as launching some brand new mixes too!
If you follow us on Instagram, you'll have kept up to date with all of our goings on from last year. We've rounded up some of our best performing posts of the year 2022, check 'em out 👇
From No. 10 down to No. 1, here are our best performing posts from last year…
10. Our giveaway with Popcorn Shed
Every Christmas, we host an advent calendar giveaway over on our Instagram. From the 1st December all the way through to Christmas Day, we post a giveaway with lots of lovely brands taking part. 
This post was actually Day 15 of our advent giveaway, where the team at Popcorn Shed very kindly gave us one of their DIY Movie Night Kits to give away to one lucky winner. We had a whopping 533 entries in the end, proving that the people really do love their popcorn!
9. Not our mixes…
With this post, we really felt that it was time here at The Bottled Baking Co. to flag something we'd noticed for the past few years. 
We are the original Bottled Baking Co. brand established in 2016 and since that point, we've been tagged in a number of photos of bottles that simply aren't ours. 
Not only do we pride ourselves on our mixes, we want to ensure our customers know what they're getting when they choose a Bottled Baking Co. bottle over any other 'similar looking' bottles. 
Have a swipe through and take a look at some of the bottles 👆
8. Watch us make our Salted Caramel Cookies with the help of Carnation
Originally a bottle which was exclusive to John Lewis, this Gorgeous Salted Caramel Cookie mix went rather nicely with some Carnation caramel drizzle.
Once we launched the bottle on our own website, we decided to make a reel showing you how to make them. Thanks to Carnation, these cookies were even MORE caramely 🤤
7. We gave away some toy mixers thanks to Casdon & Kenwood 
This rather genius collaboration between Casdon Toys and Kenwood made the perfect prize for one of our advent calendar giveaways. 
If you've not seen one of these before, these toy mixes are designed to help little ones get into baking, but safely of course! This was music to our ears here at the Bottled Baking Co., so we decided to give not one but FIVE of these away! 
Not only did we host this give away but we also worked with the team further, gifting some of these mixers alongside our mixes to influencers to create content! These mixers really mix our bottles so it was perfect for any budding bakers to get started with our mixes.
6. Watch us make some bonfire-inspired cupcakes
Although Halloween is a particular favourite of ours, we do love Bonfire Night and what better way to enjoy the night than with these bonfire cupcakes?
We used orange frosting to create the flames as well as straight pretzels to look like wood - we even went as far as making little marshmallow sticks to go on the fire! 
Watch how we make them in our reel or read our blog for step-by-step instructions. 
5. Using one of our empty bottles for a protein shake
There are SO many ways you can reuse our glass bottles. In fact, you can find more inspiration on that in this blog post. 
We decided to use our bottle as a glass for our protein shake (once we'd given it a good rinse of course.) 
Watch the video to see how we made ours 👆If you'd like the recipe for our protein shake, you can find it here.
4. We collaborated with Carnation to give away some goodies
 Just LOOK at all those amazing Carnation goodies 🤩 Oh, and of course our delicious mixes too! 
Back in November 2022, the team at Carnation got in touch as they'd just launched their brand new range of drizzles and thought we'd be perfect to collaborate with. We decided to create the ULTIMATE baking bundle which we could give away to one of our lucky Instagram followers. 
WHAT A TREAT 🥣
3. Watch us make some gooey caramel brownies
Our gooey caramel brownies went down rather well with our followers on Instagram. 
We actually used our Vegan Chocolate & Walnut Brownie mix for this bake, including Carnation's new Vegan Condensed Milk! We drizzled the caramel drizzle on top and used a knife to create the swirl pattern that you see in the reel!
2.  We hosted a giveaway with The Modern Milkman 
Our second most popular post of the year is our reel we made in collaboration with The Modern Milkman. 
Just like us, these guys also use reusable glass bottles for their milk, removing the need for single-use plastic. The team also delivers eggs and butter so we thought we'd give away 10 of our mixes alongside those extra ingredients you need to bake our mixes! 
This giveaway was so popular amongst Modern Milkman customers and it was great fun to film too.
1. Drumroll please… Our most popular post of 2022 is… 
Our reel on how to bake your Percy Pig blondies! 
If you hadn't already seen (where have you been?!) we teamed up with the lovely people at M&S, helping to create two very special bespoke mixes. 
In September last year, we announced our Percy Pig Blondie mix as well as our Colin the Caterpillar Brownie mix. 
Here, our in-house Bottled Baker Cristy shows us how to bake the Percy Pig Blondie Mix 👆
Don't they look AMAZING 🤩
Follow us on socials to see all the behind the scenes and sneak peeks
If you hadn't got it by now, then it's quite clear our Instagram is THE place to keep up to date with all of our goings on here at The Bottled Baking Co. You can also subscribe to our newsletter to keep up to date. Simply head to our homepage and sign up (p.s It's in the bottom right hand corner… you're welcome).